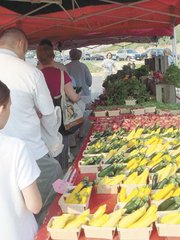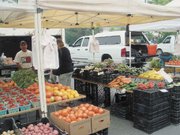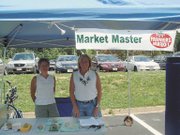 Grocery shopping does not have to be just about buying food with hands fastened to a cumbersome cart. It can be a social affair for those who seek an experience rather than a chore. Community farmers markets in Fairfax County provide residents the opportunity to engage in this experience.
"I would encourage more people to come share this experience," said Wakefield Farmers Market Master Anne Hosford. "It's a real homespun kind of experience. All the products sold at the markets are produced locally within a 125-mile radius of Fairfax County."
Market masters encourage face-to-face interaction with the vendors, who not only have a long history with the Fairfax County market program, and also sell at multiple market locations across the county. Their farms are family-owned and family-operated, and their products all homemade.
The Wakefield Farmers Market, located on 8100 Braddock Road in Annandale, is open every Wednesday through October, from 2-6 p.m. Hosford decided to volunteer as a way to give back to the community. She helps to serve a wide array of clientele at this market including families, retirees and school groups.
Customers at the Wakefield market enjoy the home-churned ice cream from The Middleburg Ice Cream and Country Store, said Hosford. Owner Kathy Lewis of Winchester, Va., was first motivated to sell her ice cream at the farmers market because she was looking for local, seasonal fruit to make her fruit ice cream.
"Now, I get fruit here and I sell here", said Lewis. She also sells her homemade ice cream at numerous other Farmers Market locations in Fairfax County.
"You get a better sense of what's in season, and you really get to know the people who produce the food," said Kingstowne Farmers Market Volunteer Sue Wolinsky. The Kingstowne Market, located in the Kingstowne Center on Kingstowne Boulevard, is open Fridays, 4-7 p.m.
"I look at what's going on with the food system globally, and find it important to support the local producer," said Wolinsky.
The Kingstowne Farmers Market sells several festive treats. The homemade glazed nuts and gluten-free cookies are just two of the numerous treats sold at A Bit More: Sweets and Specialties.
"I bake every single thing I sell. I don't go to sleep on Thursday nights. I bake," jokes Lynn Dysart, A Bit More owner. Customers also love the kettle corn at Colonial Kettle Corn, hand-popped in a large kettle, because it has just the perfect mix of sweet and salty, said owners Troy and Judy Payne.
The Burke Farmers Market, located in the Virginia Railway Express Parking Lot on 5671 Roberts Parkway, is open every Saturday from 8 a.m. 12 p.m. On a recent Saturday morning, this market was bustling with families with children, sounds of laughter and lively chatter filling the air.
Market Master Giovanna Prestigiacomo takes pride in the variety of vendors in the Burke Farmers Market. For an example, one vendor sells hard cheeses and another sells soft cheeses, yogurt and milk. Prestigiacomo notes that a vendor now sells buffalo meat — a recent addition to the Burke Farmers Market location.
"People love this market and they come from all over the area to shop here," said Prestiagiacomo. "They keep coming back week after week. I feel a real kinship here."
Also open on Saturday, from 8 a.m.-1 p.m., is the Community Farmer's Market located in the heart of Historic Fairfax City on 10500 Main St. and sponsored by the Downtown Fairfax Coalition. "The Coalition is a private, non-profit corporation that provides guidance to promote the positive redevelopment of Old Town Fairfax and the surrounding area," said Market Master Brenda Snyder. Snyder says that this market is non-traditional because local entrepreneurs, artists and craftspeople selling handmade products are part of the vendor community in addition to ones selling produce and baked goods. The vendor stalls are also placed much closer to each other than at other county markets, which promotes the intimate and familial atmosphere of this market.
"My favorite thing about this market is seeing people interact and connect with one another," said Snyder. "This market has really become a meeting place for the community