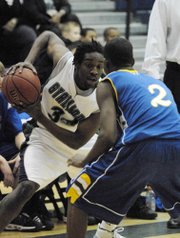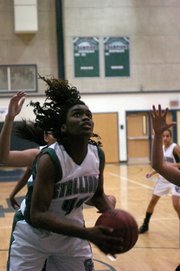 Based strictly on wins and losses, it was a tough year for the South County basketball programs. The boys and girls varsity squads finished with a combined 13-33 record – both losing in the first round of the Patriot District Tournament. But delving deeper, beyond wins and losses, the Stallions have plenty to be proud of and much to look forward to next year.
"We had a really successful season," said Stallions girls head coach Jason Grubb, whose team lost all of its starters from the previous year. "We had a tall task at hand because we lost so much talent."
The Stallions' lineup featured three juniors, four sophomores and two freshmen to go with only three seniors.
"We lost eight of our top nine kids when you look at points and minutes from last year. We had a real tall task and we compete in the toughest district," said Grubb.
Add injuries to the equation and the Stallions were in for a tough season. Only two players saw time in all of the Stallions 23 games. Junior Liz Ramirez played in only four games due to injuries, senior guard Miquelle Williams dislocated her shoulder three times during the season and various other Stallion starters missed games due to injury.
"[This season, we had the] most injuries that I have ever dealt with as a coach," said Grubb.
The bright spot in the season, however, came in the form of freshmen Simone Antwi and Alex Brown.
Antwi, a second-team all-district selection, led the team in scoring, rebounds, blocked shots, and field goal and free throw percentage. The 6-foot center averaged 14 points and 12 rebounds against district opponents.
"She was big part of what we did and is going to be a talented kid for years to come," said Grubb.
Brown was also an impact player for the Stallions, hitting a team-high 35 three-pointers.
"We have a really good core of kids coming back," said Grubb.
The Stallion boys, like their female counterparts, dealt with playing in the tough Patriot District, which produced two final four teams on the boys side and housed both region champions.
"I was proud of our guys. We battled every game. We had a very tough schedule. We played six of the eight [Northern Region quarterfinalists]. They were all close games against those teams," said head coach Mike Pflugrath. "We just had a tough schedule. In our district, night in and night out, you have to be ready to play. It is just a tough district, top to bottom. They are all good."
South County's boys had a much older group this season with six seniors, six juniors and a freshman. Pflugrath made a conscious effort to give his younger players time to develop at the freshman and junior varsity level rather than place them on the varsity squad too early.
"The thing, when we got here, was to build a program from the ground up. We didn't want to sacrifice tomorrow for today," said Pflugrath. "We really wanted our kids to play together each year and build it from the ground up. Next year, we will see the fruition of that. It has been a marathon. It hasn't been a sprint."
The lone exception this year was sophomore Antonio Butler, who was third in scoring for the Stallions and will move into a leadership role next year.
"He just has a real bright future. He is already a good player, but he has potential to be a real special player here," said Butler.
The Stallions were captained by seniors Chris Panneton and David Stevens. Stevens led the squad in scoring with 13 points per game while the 6'8" Panneton set a South County record in blocks and rebounds and averaged 12.8 points per game.
Panneton, who was nominated for McDonald's All-American, is in the process of deciding where to play next year, with Catholic University as one of his top schools. Stevens is also looking to continue his basketball career next year.