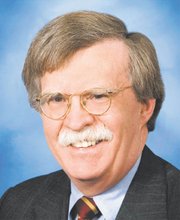 In 2002, when Fairfax County Public Library started the Perspectives Series at the Alden Theatre, organizers wanted it to be just that — a series with speakers from a variety of perspectives. "We didn't really have any basic criteria other than being interesting people," library director Sam Clay said. "We don't have an agenda, we aren't pushing anything."
This year's series begins Tuesday, March 11, with John Bolton, former U.S. ambassador to the United Nations and author of "Surrender Is Not an Option: Defending America at the U.N. and Abroad." Wednesday, April 2, Marjane Satrapi will discuss her graphic novel memoir, "Persepolis: The Story of a Childhood," which was made into an Oscar-nominated film. USA Today "Common Ground" columnists Cal Thomas and Bob Beckel finish the series Tuesday, May 6, marking the first time in the Perspectives Series that two speakers with different viewpoints will take the stage together.
Each event begins at 7:30 p.m., and free tickets are available at 7 p.m. Tickets are free, with a limit of four per person. Books will be available for sale and signing. Contact 703-324-8428 or libraryevents@fairfaxcounty.gov, or visit www.fairfaxcounty.gov/library.
KATIE STROTMAN is the programming coordinator for the library, and responsible for booking the speakers. Her aim each year is to continue to keep the series living up to its name: she looks for "a mix of different authors and speakers, so that we're presenting different points of view."
Bolton was appointed by President George W. Bush as ambassador to the United Nations during a congressional recess in 2005, and the timing of his appointment as well as public comments criticizing the United Nations made him a divisive figure. Bolton served as ambassador through 2006.
"We see the library as a community space, and a place for people to come together and agree and disagree — certainly that is something that we think is interesting," Strotman said. "You could bring in almost anybody and there would be one person who sees it from a different point of view. Really whoever you pick would probably stir up some controversy."
Clay echoed the feeling, saying that part of the reason for the series is "to spark conversations."
"I think if you think about libraries, we have all kinds of controversial subjects in our doors," Clay said. "We're certainly not looking for controversy for controversy's sake."
In a recent Bookcast – the library's podcast – Clay interviewed Bolton, and chose questions that would allow listeners to "discover a different side" of the man the public has seen in the last few years. "So many folks in the public eye are just folks," Clay said. The Bookcast is available at www.fairfaxcounty.gov/library/bookcast/bolton.htm.
WHILE THE SERIES is open to people across the county, its home has always been at the Alden Theatre. "It's very intimate and yet it holds a good number of people," Strotman said. "Their staff is so professional — it's everything that you could possibly want." While Strotman expected that McLean residents got more information about the series because of its base at the Alden, she said the speakers could pull an audience from around the area. "I think people are willing to travel in this county if it's a speaker they want to hear," she said.