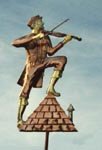 James Madison High School MAD Drama Department presents its spring musical, "Fiddler On The Roof," originally based on "Tevye and his Daughters" and other tales by Sholem Aleichem which he wrote in Yiddish and published in 1894. The music is by Jerry Bock, lyrics by Sheldon Harnick, and book by Joseph Stein. Set in Tsarist Russia in 1905
in the little village of Anatevka, everyone knows everyone else and the upheavals and turmoils of the outside world are not nearly as important as the immediate concerns for the health and happiness of one's own family and neighbors. As Tevye and Golde struggle with the daily challenges of supporting and protecting their family, they also face increasing challenges to their religious and social traditions and practices from outside forces and from within their own family.
Tevye, the father of five daughters, attempts to maintain his family and religious traditions while outside influences encroach upon their lives. Tevye is played with humor by Trey Ervine. His wife, Golde is played by Jeanne Melcher. Their daughters are portrayed by McKenna Weipert, Julia Addis-Lieser, Jordana Sapiurka, Talia Laster, and Leslie-Anne Mcconnaughey. The shy Motel is played by Torsten Peterson while the outspoken Perchik is portrayed by Jake Behard. The Matchmaker Yente is played by Dorothy Raskind who finds Lazar Wolf played by Adam Smith, the perfect match for Tevye's eldest daughter. The cast includes 33 other students plus a large behind-the-scenes crew.