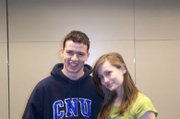 Discover the magical tale of a unique girl, a beast trapped by a curse and the transforming power of love, as the South Lakes High School Theatre Arts Department presents Disney's "Beauty And The Beast." Performances will take place in the newly renovated Little Theatre located at 11400 South Lakes Drive in Reston, April 10-12, and 16-18. All performances are at 7 p.m. Special events have been planned to promote the show and will be announced at a later time. Ticket prices are $10 presale and $12 at the door.
This enchanting tale with music by Alan Menken, lyrics by Howard Ashman and Tim Rice, with book by Linda Woolverton, will be directed by Maria Harris and will feature more than 100 multi-talented actors, singers, musicians and tech from the South Lakes Performing Arts Department.
For more information or to purchase tickets visit the South Lakes Theatre Arts Department's Web site at www.sltheatrearts.com, or call 703-715-4589.
An Actor's Perspective
While walking from class to class, I hear students talking about the show and singing the songs. It is cool to see that the school is buzzing with excitement for the show. It was evident from the number of students who showed up for auditions. From those who auditioned, 40 students were selected to rediscover Disney's "tale as old as time." I am ecstatic to be included in this show along with such a talented cast. In rehearsals, everyone's high spirits are channeled into the work and it shows on stage. The rehearsal process is a roller coaster because we find new elements to our characters and the characters around us every time we rehearse. We get to perform in our newly renovated theatre, which is gorgeous! The school and the community are ready for a spectacular production and we are ready to perform it!
— Alex Turner
Remembering William Strauss
Bill Strauss was a visionary and a renaissance man. His dream to promote high school theatre is now a part of his great legacy. I fondly remember the opportunity to work with Bill as the first high school to produce his musical "Anasazi."
I was invited to participate in a reading of the show at Bill's home and later expressed an interest in producing the show. I left thinking what a wonderful story about the Hopi Indians' prophesies and legends. Not long after the reading, I received an e-mail from Bill asking if I would direct and produce the production at South Lakes High School. I accepted the honor and challenge, studied the history, designed the costumes, and assembled my young cast. The show premiered on Jan. 27, 2005 and ran for four outstanding performances.
Like Bill, I truly hope my love, excitement, and passion for the theatre will always live on for all of my students who tread upon the South Lakes Stage. Therefore, the South Lakes Theatre Arts Department proudly dedicates our production of Disney's "Beauty And The Beast" to Mr. William Strauss who put high school theatre center stage.
— Maria Harris, Director