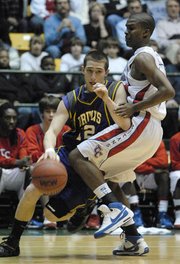 The problem with Cinderella runs during the postseason is that midnight is looming right around the corner. The ticking clock met up with the Lake Braddock boys basketball team in the form of the T.C. Williams. The Titans beat the Bruins, 50-37, knocking them out of the Northern Region semifinals at the Patriot Center at George Mason University on Feb. 29.
The Bruins, the No. 4 seed out of the Patriot District, shocked Concorde District top seed Westfield on Feb. 25 with a first round upset win in overtime, 43-38. Lake Braddock followed that up with an upset over Mt. Vernon, 58-56, to advance to the region semifinals.
"We just played our guts out. We grinded some victories out that maybe in the beginning of the year, we wouldn't be able to do," said Lake Braddock head coach Brian Metress.
The Bruins knew the task facing them against the Titans, as they had lost to T.C. Williams three times during the season by an average of 15.6 points.
"It is pretty obvious to us and to them that we were the underdog," said Metress.
In Lake Braddock's, last meeting with the Titans, Metress opted to slow down the pace of the game to a near standstill, holding the ball for minutes at a time. The plan resulted in a 26-20 win for the Titans, but it was the closest final that Lake Braddock had with T.C. Williams this season.
The Bruins took the same approach at the Patriot Center, but the Titans were ready for it, jumping out to a 20-11 lead at halftime.
"We knew if we were up, they couldn't continue to [stall]," said T.C. Williams head coach Ivan Thomas.
Added Metress: "It got away from us and we had to get back in it. To get back in it, it was tough. Once they get up 10 or so, you have to get out there and play."
Thomas also made the Bruins work for every inch of court, pressing Lake Braddock for the majority of the game.
"We played them full court for three quarters and we just wore down in the end," said senior guard Dominic Morra, who finished with a team-high 16 points.
Added Thomas: "Dominic was exhausted. That was kind of the plan. We wanted to make him go baseline-to-baseline. We knew he could score, but we wanted him to score quickly. I thought he got extremely tired in the end."
Lake Braddock kept the game within single digits all the way to the fourth quarter, but ran out of gas at the end.
"They are very talented and I thought that we stayed right with them. We just couldn't put the choker on them," said Metress.
Despite the loss, the Bruins enjoyed their time as wearers of the glass slipper.
"Coming in as the No. 4 seed, we weren't expected to win any games. Getting here was great," said Morra. "It was a great experience. Hopefully next year we will get back here."