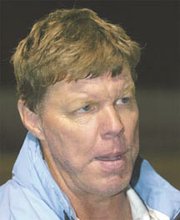 New Stone bridge High girls' softball coach Mike Skinner is pleased to be coming to a program that has experienced good success in recent seasons under former Bulldogs' coach Stephanie Walley.
"I inherited a real good program," said Skinner, who was an assistant baseball coach last year at Madison High School.
Skinner, who over the years has coached Northern Region softball at Marshall High School (head coach) and Centreville High (assistant), said Walley was an assistant coach at Park View in 2002 when his daughter played there. That squad captured the state title.
Skinner has kept close ties with the game over the years as both a coach and as a parent following his daughter's playing career. He has been a part of coaching staff's for his daughters' travel teams. Also, he has been involved coaching within the Sterling Lower Loudoun Little League program.
Skinner, who was hired to take over the Stone Bridge softball program last month, has had outstanding success over the years as a head football coach at both Marshall and Centreville High Schools. Now, his focus is on Bulldogs' softball.
"We have seven starters back," said Skinner, of this year's team. "They were all major contributors last year. The girls' expectations are high. They have a great work ethic and their practice habits are high."
THE TEAM'S TOP returning player this season is senior catcher Kayla Lechler, a Second Team All-Met player a year ago who has committed to play the sport collegiately next school year at Columbia University.
"She's great behind the plate," said Skinner, of the First Team All-Northern Region player. "She's a tremendous hitter and has a ton of [team] records. She's a great hitter and hits for power."
Skinner has two players lined up to handle the team's pitching duties this season in juniors Cassie Phillips, who will also play in left field, and Ashley Gardner, also a third baseman.
"Both are good pitchers," said Skinner. "We'll figure it out [how to utilize the two]. Both pitched a lot last year."
A power punch to Stone Bridge's batting lineup will come from senior first baseman Lauren Wolz, a 2007 Second Team All-Region selection who knocked six home runs last year.
"She's probably the best power hitter I've seen [as a coach] in a long time," said Skinner. "She can really hit for power."
Other key infielders for the Bulldogs will be shortstop Natalie Driskill and second baseman Michelle Mocabee.
Driskill, a senior, is a third year starter for Stone Bridge. Along with playing softball, the athletic Driskill has also been a member of Stone Bridge's volleyball and basketball teams during her high school career. She has already committed to attend Virginia Tech next school year, where she will focus on her academics.
Skinner loves the way Driskill handles the glove.
"She's a very good defensive shortstop," he said.
Mocabee, a junior and third year varsity, is good both in the field and at the plate, according to Skinner.
The outfield will be led by senior center fielder Amanda Adams, who missed most of last year with a jaw injury. Skinner is pleased that Adams is healthy and ready to play again this season. Next school year, Adams will play the sport collegiately at Mary Washington in Fredericksburg.
Skinner said Stone Bridge hit the ball well last year, averaging seven runs per game. That team attribute was a key reason the Bulldogs advanced all the way to the region finals before losing to Robinson.
But the coach said one key to his team's success this season will be pitching and defense.
"I'm a big pitching, defense guy," he said. "We hit well last year and hopefully we'll score runs [this year]."
Stone Bridge opens the season this Thursday evening with a non-district home game against Loudoun Valley.