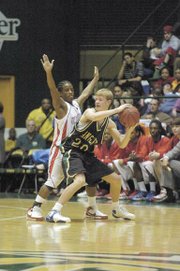 Langley High's breakthrough 2007-'08 boys' basketball season finally ended last Saturday night in Portsmouth where the Saxons lost its Virginia State AAA quarterfinals playoff game to Bethel High (Hampton), 50-37. The postseason contest took place at Churchland High School.
The state playoff game was the first ever for the Langley boys' program, which has been in existence for over 40 years. A remarkable winter in which the Saxons went 18-3 during the regular season before winning the Liberty District tournament and finishing second at the Northern Region tournament ended with the state playoff setback.
"We're the only [Langley boys' team] in school history to experience [the state playoffs]," said Langley High senior Ryan Davenport, who late in the regular season became the school's all-time career leader in points scored. "It was a lot of fun."
In the state playoff encounter, the game got away from the underdog Saxons in the first half as the Bruins built a huge 31-13 lead.
The Saxons, however, played much better in the second half and actually cut the large deficit to five points at one point during the latter part of the game before Bethel pulled away.
"I think they're very good," said Langley coach Travis Hess, of a Bethel team that has several players who will play the game collegiately at the Div. 1 level. "They have a lot of talent. We kind of came out flat and didn't shoot well. They got some easy baskets in transition and that's how they got the lead."
Davenport was impressed with Bethel and the way it came out to start the game.
"They're a very big team with athletic players," said Davenport. "They're defense was very tough. Offensively, they had a couple of dunks early in the game. It was hard for us to control them inside. And it was hard for us to get in our offense."
BUT LANGLEY, even in the loss, could take solace in its effort to get back into the game after the tough first half.
"There's less pressure to play good basketball when you're down by 18 [at the half]," said Hess. "[In the second half] we finally started executing our offense and got easy looks. We got backdoor lay-ups and that got us going. A lot of people commented to me on how our kids played and that they didn't quit."
At halftime, Davenport and the Saxons knew they might be playing their final half of ball, and they wanted to give it their best effort.
"I think we knew our season was on the line," said Davenport. "So we said, let's go out, relax and have fun with this. I thought we played with confidence offensively and really attacked them. We got back door cuts, ran our offense, relaxed and played confident. Once we started scoring, we kind of got momentum."
Once Langley got within striking range, Bethel turned its play up a notch.
"They kind of picked it up too," said Davenport. "When you get behind by 18 to a very good team, it's difficult to come back."
LANGLEY'S LONE player to score in double figures was junior shooting guard Derek Baker, who tallied 22 points. Saxon senior front court player Ahmed Malik contributed seven points and Davenport, who led the Saxons in scoring this season with 17 points per game, was held in check with four.
Of Baker's game, Hess said, "He had a fantastic game. We got him going and got him a couple of easy lay-ups and he hit long jump shots."
Hess said Bethel did a nice job slowing down Davenport.
"They did a great job across the floor in man-to-man," said Hess. "He was two-of-11 from the field. He got some looks and they didn't go in."
Davenport said both Bethel and T.C. Williams, which defeated Langley at the region finals, 66-54, at George Mason's Patriot Center, are outstanding teams.
"They both have a lot of offensive weapons," he said. "You can't just [try to] stop one player. If you take away one of their players, others will hurt you. They play pressure defense, in your face, and take you out of your offense. I wouldn't be surprised if the two teams meet in the state finals."
Hess said it did not really hit him that he was coaching a team in the state playoffs until moments prior to the start of the game.
"It just dawned on me what we were about to do— play our first state playoff game [ever]," said Hess. "It's something Langley's never done before. I'm proud of them."
A few days prior to the state playoff game, Langley High School celebrated its winter sports seasons with a banquet. There, coach Hess had his basketball team members stand up and be recognized for the banner season it had.
"He said, `This is the best team in Langley history,'" Davenport recalled of that moment. "We didn't have the biggest size or the athletes that can jump out of the gym. We had guys who worked hard every day and liked each other. What we will always remember is how much fun we had. I think we really enjoyed spending our time together. It's just been a fun basketball season overall."