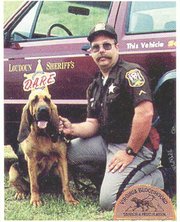 Send announcements, which are open to the public at no or minimal cost, to The Loudoun Connection, 7913 Westpark Drive, McLean, VA 22102 or e-mail to loudoun@connectionnewspapers.com. Deadline is Friday, two weeks before the event. Photos/artwork encouraged. For more information, call Jennifer Lesinski at 703-917-6454. For additional listings, visit www.connectionnewspapers.com.
The Loudoun County Department of Management and Financial Services has filled two key positions. Mark Withrow is the new controller and Donald Legg is the new procurement manager and purchasing agent.
Sarasi Jayaratne, 18, of Potomac Falls, and Cori Goodwin, 13, of Leesburg, were named Virginia's top two youth volunteers for 2008 by The Prudential Spirit of Community Awards, a nationwide program honoring young people for outstanding acts of volunteerism.
Each will receive $1,000, an engraved silver medallion and an all-expenses-paid trip in May to Washington, D.C., to take part in several days of national recognition events with the honors from other states. Ten of the honorees will be named America's top youth volunteers for 2008.
Jayaratne, a senior at Potomac Falls High, collected more than 6,000 books for schools in Sri Lanka that were devastated by the tsunami of 2004.
Goodwin, an eighth-grader at Harper Park Middle School, started a fund-raising project that raised $680 to buy three farm animals for an impoverished family in a Third World country.
Also recognized as one of six distinguished finalists was Andrew Livingstone, 18, of Potomac Falls, a senior at Dominion High School who formed a club at school that hosts sports clinics for athletes with special-needs called Athlete-to-Athlete.
Rebecca Young, a senior from Dulles, was named to the academic honor roll for the fall term at Northfield Mount Hermon School, Mount Hermon, Mass.
Mark A. Carpenter has returned home after being deployed to an overseas forward operating base in support of Operation Iraqi Freedom.
Carpenter, an infantryman with four years of military service, is assigned to the A Company, 116th Special Brigade Troop Squadron, in Fredericksburg, Va. He is the son of Maire H. and Melvin D. Carpenter of Leesburg.
<ro>(C)
The following students enrolled at Virginia Tech were named to the Dean's List for the fall 2007 semester. To qualify for the Dean's List, students must attempt at least 12 credit hours graded on the A-F option and earn a 3.4 grade point average (on a 4.0 scale) during the semester.
Joshua A. Albert, Nancy A. Ballhagen, Lindsay E. Berg, Carolyn A. Bien, Faith, Katherine M. Charles, Kristin M. Claeys, Elizabeth L. Dye, Nathan B. Entsminger, Scott A. Fernandez, Nasser O. Hamidi, Jarri Hasnain, Zaki Hasnain, Imran T. Imam, Kyle T. Kasulis, John C. Meier, Scott T. Miller, Michael A. Schaefer, Dustin O. Schleifer, Jamie L. Sinclair, Vladimir S. Smirnov, Whitney L. Svensson, Kenny S. Tran, Victor O. Turriate, Nicholas R. Williams, Mitchell P. Witte, Michael J. Woods, Alyssa A. Yassine, Christian W. Zoeller, Andrew J. Augustin, Albert J. Bjork, Robert D. Bowen, Douglas B. Brenner, Alexandra J. Butt, Lauren M. Butt, Craig E. Carlson, Chelsey T. Cooper, Zachary M. Dana, Christopher M. Dowling, Carissa H. Edens, Margaret P. Feldman, Kirsten D. Gheen, Elizabeth A. Goodman, Natalie M. Hisdahl, Tiffany, Lisa M. Kaiser, Curtis R. Kobelski, Robert S. Lee, Christopher B. Lockhart, Jonathan W. Miller, Nahed Najmyar, Erin A. Nolan, Morgan L. Rezac, Danielle C. Robinson, Haily Stansberry, Jared S. Thomson, Brennan S. Thralls, Kristina M. Velarde, Megan N. Widman, Sean C. Wilson, Guo-Howe Shao and Emily M. Williams.
<ro>(A)
The following students enrolled at Virginia Tech were named to the Dean's List for the fall 2007 semester. To qualify for the Dean's List, students must attempt at least 12 credit hours graded on the A-F option and earn a 3.4 grade point average (on a 4.0 scale) during the semester.
Andrew P. Lawlor, Daniel Aguilera, Dawson M. Allen, Tara E. Anderson, Trevor D. Anderson, Wesley S. Anderson, Mary F. Arrowsmith, Sydney E. Beall, Timothy M. Berman, Michael W. Bromley, Jon A. Brundage, Sarah M. Cabrisses, Joseph W. Casola, Catherine J. Christensen, Kevin T. Chu, Brian M. Colleran, Victoria A. Conolly, Ian A. Cozens, Robert E. Cullen, Monica J. Davis, Kevin R. Eberling, John R. Edstrom, Casey E. Ferrari, Alexandria J. Gallo, Ariel K. Gouveia, Chelsea A. Hickey, Danielle M. Holup, Lauren N. Hudson, Elizabeth M. Kendall, Joseph C. Kendall, Sarah B. Keuken, Elizabeth M. Lyon, Gabriel E. Martinez Arroyo, Jonathan S. Meyer, Michelle N. Meyer, Kathleen M. Moriarty, Christopher J. Mortweet, Nicholas R. Nelson, Nicole A. Normandy, Kristina L. Ost, Grant Pan, Valerie A. Rankin, David J. Rariden, Sean M. Ryan, Kellen S. Shain, Adam N. Smith, Christopher T. Snow, Robert A. Snow, Alysen R. Spencer, Matthew B. Streeter, Erica L. Swanson, James L. Timbers, Samuel J. Tutko, Heather A. Tydings, Colleen E. Webster, Michael T. Wilkens, Heather J. Yandziak, Stephanie M. Zayas, Alexander M. Ace, Jacob M. Dawson, Nicholas J. DeRosa, Pawneet K. Dhillon, Arash Hamidi, Kevin A. Hennessy, Andy D. Hsu, Hillary P. Hunt, Nina M. Wang, Jessica L. Wolfe, Christina N. Wudijono and Scott E. Yarbrough.
Fourteen students from the Stone Bridge Drama Team of Running Dog Productions brought home a First Place win in the Liberty District One Act Competition. The students, under the direction of drama teacher, Glenn Hochkeppel, performed "Too Much Light Makes the Baby Go Blind," which consists of 16 different sub plays. Students that competed were: A.J. Pendola, Kristen Rencher, Jarad Kopciak, Abi York, Sammie Teran, Meghan Slupe, Austen Willis, Jason Francis, Eric DeLong, Kaitlyn Palumbo, Harper Franklin, Monique Langevin, Nick Gagliano, and Andi Hiatt.
Army Reserve Pvt. Lakeshia R. Salvary has graduated from basic combat training at Fort Jackson, Columbia, S.C. During the training, the soldier studied the Army mission, history, tradition and core values, physical fitness, and received instruction and practice in basic combat skills, military weapons, and much more. She is the daughter of Julia Salvary of Longstreet Drive, Manassas and sister of Nichole Salvary of Choctaw Square, Ashburn. The private is a 2006 graduate of Broad Run High School, Ashburn.
Loudoun Volunteer Services recently honored two students as January and February Student Volunteers of the Month. Philip Biever, a junior at Park View High School and Marco Cunicelli, a freshman at Heritage High School were named. Both Philip and Marco will have the opportunity to name a nonprofit of their choice to receive a $100 contribution in their honor. For more information on how to nominate a student for this monthly recognition, call 703-737-8424 or e-mail pivs@loudoun.gov.
As the only candidate filing, Glen Caroline will be deemed Loudoun County Republican Committee chairman at the group�s March 15 meeting at Heritage High School.