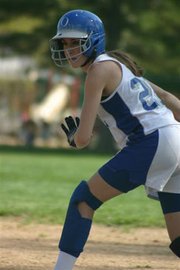 <b>Coach</b>: Tommy Orndorff, 23rd year, (506-57)
<b>2007 Record</b>: 29-2, 16-0 WCAC
<b>Season Ended</b>: The Knights won the VIS state title for the fourth consecutive year.
<b>Key Losses</b>: P Kelley Engman, SS Erin Marrone, C/1B Katie Nutaitis
<b>Key Players</b>: P/RF Colleen Carty, SR, 3B Devon Metcalf, CF Kelly Miller
<b>Quotable</b>: "That's a big dent, anytime a high school losses three Division I types. Certainly we aren't going to replace those with freshmen… We lost a lot in talent, leadership and character with the kids that graduated last year…. Our seniors are going to have to provide a lot of leadership with the way its been done here in the past." — Tommy Orndorff, Bishop O'Connell head coach
<b>Outlook</b>: Bishop O'Connell on a bad day is better than everyone else. Simply put. While Orndorff will have trouble replacing his No. 1 pitcher, shortstop and part-time catcher, he certainly likes the next generation of O'Connell record setters.
Orndorff brings in five freshmen to combat the loss of over 50 percent of the roster to either graduation or transfers. The new faces are being asked to fill huge holes vacated by last year's seniors, including pitcher Kelley Engman, who is starting at Boston University, Erin Marrone, a right fielder and first baseman at Notre Dame and Katie Nutaiti, who is the second leading hitter at the College of Charleston.
Gaping holes will have to be filled at critical positions like shortstop, catcher and on the mount. Sophomore Sarah Eidt or a combination of three freshmen will likely man shortstop, while Eidt, who hit .360 last season and had 32 hits and runs, will likely split time as senior Collen Carty at pitcher.
Carty, a three-year starter was 5-0 last year, and allowed just six singles and one double in 34 innings. Carty didn't give up an earned run, while Eidt struck out 13 batters in seven innings. Engman had 163 innings en route to a 23-2 record last year, so either Carty, Eidt or freshman Jilly Falle will have to fill the role.
Catcher should also be an issue, with either Sophie Giaquinto or Lindsey Goodwin, both of whom are freshmen, set to fill the slot.
"Losing all that we did, the young kids are going to have to step up and be a part of things right away," Orndorff said. "We need two or three of them to be impact players from the very beginning. They're going to have to step up and perform right away."
In the batting order senior Devon Metcalf, a Drexel University signee will hit at either the four or five slot and "will be a big stick," according to Orndorff.
Metcalf has hit better than .400 for her career and is a dependable glove at third base.
"Our seniors are going to have to provide a lot of leadership with the way its been done here in the past," Orndorff said.
Though Paul IV and Elizabeth Seton will challenge the Knights' WCAC supremacy, O'Connell should continue to cruise to another WCAC regular season and tournament title, before wrapping up their 23rd VIS state title in the past 24 years. But caution, with the influx of newcomers, it's not likely to be a banner season like 1996 and 1998, when the Knights ended up undefeated.
But even when they're "bad" by their standards, they're really, really good.