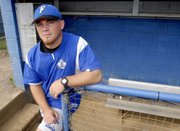 <b>Coach: </b>Kevin Simonds, first season
<b>2007 Record:<b> 6-14
<b>Key Losses: </b>SS Nick Calabrese, INF/OF Zak Knoll
<b>Key Players: </b>P/SS Carlos Perez, SR; C/DH Tyler Love, SR.
<b>Quotable: </b>"It is a game of inches. You have to lay out. You have to put your body on the line in practice, so when it comes to the game, it is not a surprise." — Fairfax head coach Kevin Simonds
<b>Outlook: </b>First-year Rebels' head coach Kevin Simonds describes his practices as "controlled chaos." Since taking over the role as skipper from former head coach Rick Freeman, Simonds has taken swift action to change the philosophy of the Fairfax squad – starting with practice.
"Guys know that you do everything that you can to make a play during practice, because if you don't, you get one warning and the second time, you are asked to leave practice," said Simonds. "I want them to understand that the ball that dropped in front of them that they were jogging after, in a game, that might be the ball that wins the game."
Simonds, a 1994 graduate of West Springfield High School, played for legendary Spartan coach Ron Tugwell. During Simonds' time at West Springfield, the Spartans won two region titles, a Group AAA Virginia state title and advanced to the state tournament four times.
After graduating, Simonds played baseball at Randolph-Macon College in Richmond.
After graduating from college, Simonds moved back to Northern Virginia and started his coaching career as a baseball and football assistant at Lee High School. When friend Mat Shannon took over as head football coach at Fairfax in 2002, Simonds followed as an assistant and also joined Freeman's program as a varsity baseball assistant. When Freeman left the Rebels last summer, Simonds applied for the head job.
"I really like to be around Fairfax, so I put my name in the hat and I thought that I might do a good job," he said. "It just felt right to do this."
When Simonds won the job, he found himself inheriting a Rebel team that won six games last season.
"The aura of Fairfax and its athletics has been a little down. People haven't been excited about [Fairfax]," he said.
So Simonds ramped up practices and made sure that every upperclassman knew that no job was safe.
"There is not one person on the team that is not expendable," Simonds told his team. "This is a team game. I am going to find the best 16 or 17 guys for this baseball team and those guys are going to do everything that they can to be successful."