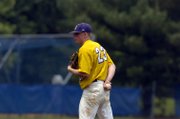 <b>Coach:</b> Jody Rutherford, sixth season
<b>2007 Record:</b> 19-4
<b>Key Losses:</b> P Sean Chitsaz, INF David Fennessey.
<b>Key Players:</b> P Shane Halley, SR; C Steven Lindemuth, SR; DH Jim Buckley, SR; SS Brenden Daley, SR; OF Shannon Mark, SR.
<b>Quotable:</b> "We are one of the more athletic teams that I have had during my time at Lake Braddock."
<b>Outlook: </b>With a 19-4 record last year, the Lake Braddock boys baseball team has reached or surpassed 18 wins in four straight seasons, a feat no other Northern Region team can boast. With six returning starters from last year's squad, the Bruins are poised to top 18 wins for the fifth consecutive year.
"[Right now], I have a senior at every position and a lot of those guys started last year," said head coach Jody Rutherford. "We are pretty experienced and, at the same time, we have a pretty athletic crew. We are one of the more athletic teams that I have had during my time at Lake Braddock."
The most notable difference between last year's Lake Braddock team and the current squad is the absence of first-team, all-region pitcher Sean Chitsaz, who graduated last spring. Chitsaz was one of four all-region senior pitchers, with others coming from Madison, Oakton and Robinson.
However, the Bruins, unlike the Warhawks, Cougars and Rams, have an ace-in-waiting by the name of Shane Halley. Halley finished last season with a 6-1 record and struck out 55 as the No. 2 starter for the Bruins.
"He has thrown some innings for us ever since he was a freshman," said Rutherford. "He has been around the block a time or two."
Despite the impressive records over the past four years, Rutherford wishes that a few more of those wins could come later in the season. The Bruins haven't won a Patriot District tournament since 2004, although their last Northern Region title was in 2006.
"I don't know if you can improve on [our record]," he said. "If anything, we would like to play a little bit better at the end of the season."