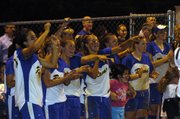 <b>Coach: </b>Barry Gorodnick (267-146)
<b>2007 Record: </b>21-7
<b>Key Losses: </b>1B Dorian Shaw, SS Taylor Cunningham
<b>Key Players:</b> P Erin Henning, SR; SS Marcy Bowdren, SO; 2B Ali Marco, SR; CF Taryn Cutrona, SR; C/1B Christine Cunningham, JR.
<b>Quotable:</b> "We like to slug away. We will take our chances." – Robinson head coach Barry Gorodnick
<b>Outlook: </b>The Rams ended their 21-year region title drought last season by beating Stone Bridge in the Northern Region title game. The first thing on head coach Barry Gorodnick's mind this season is to make sure it doesn't take two more decades for the Rams to raise the Northern Region trophy over their heads.
"When you are defending champs, you want to hold that. It is hard enough to get there and once you are there, you just got to do the best you can," said Gorodnick. "We are looking forward to it. The kids are working just as hard as last year's senior class."
The Robinson squad took a major hit in graduation last year, losing three-time Northern Region player of the year Dorian Shaw (Michigan).
"She was in a class by herself," said Gorodnick of Shaw.
The Rams return a wealth of talent, however, including senior starting pitcher Erin Henning, senior second baseman Ali Marco and slugging sophomore shortstop Marcy Bowdren.
Despite the loss of Shaw, Gorodnick expects the Rams to continue swinging for the fences.
"We like to slug away. We will take our chances," he said. "We got some kids that can hit the ball. Are we going to be that power-hitting team? I don't think that we will be as powerful, but we've got some kids that can hit the ball."