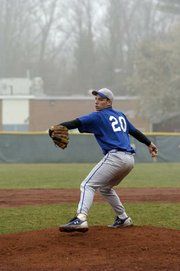 <b>Coach</b>:: Jim Sullivan, 3rd year
<b>2007 Record</b>: (8-13, 5-9)
<b>Season Ended</b>: Lost 2-0 to sixth-seeded Annandale in the first round of the Patriot District tournament.
<b>Key Losses</b>: P/SS Hunter Lord, 3B Jon Alderson, RF Skylar Galayda
<b>Key Players</b>: P/SS Kevin Sidney SR, CF Davey Hoen SR, RF David Delano SR
<b>Quotable</b>: "I guess there is a shot, maybe a long shot at No. 3, but my guess is that we'll be four, five or six. I don't think we'll be at the bottom of the barrel, but I don't think we're the cream yet either." — Jim Sullivan, West Potomac head coach
<b>Outlook</b>: Since joining the Patriot District in 1995, West Potomac has yet to win a district title. The year before, when the Wolverines were still part of the now-defunct Gunston District, West Potomac not only won the district crown, but also took home the Northern Region title. The year was 1994.
The Wolverines, however, still have to cope with its brutal 14-game district schedule. After tallying two straight five-win seasons, West Potomac fared much better in 2007, winning eight games — its second highest total since 2004.
But graduation reared its ugly head and Sullivan is charged with replacing six seniors, including his entire starting infield.
"We're still experimenting and trying a lot of different combinations," Sullivan said. "Hitting is kind of a question mark right now."
The second-year coach, does, however having a saving grace with a full stable of arms, which includes senior Kevin Sidney and junior Danny Peterson, a second-team all-district selection last year. Both are tall right-handers who prefer fastballs, but will also interchange curveballs with the occasional changeup.
"They want to strike out everybody," Sullivan said.
Grady O'Hagan, a transfer from Mount Vernon, will also see time on the mound as will Delano Genuario.
"Our strength this year is going to be our pitching," Sullivan said. "We have a lot of pitching depth. Pitching is going to be our strongest suit."
Junior Hunter Lord will play shortstop, while the team's lone sophomore David Burns should see considerable action.
"With the guys who graduated in the last two years, they have known my assistant and me since they were T-ball players," Sullivan said. "I think that maybe there was too much familiarity on their part. I think we'll be better off from here on in that we don't know these guys quite so well."
The Wolverines open at cross-town rival Mount Vernon on Thursday at 6:30 p.m., before hosting a five-day tournament that includes Stone Bridge, O'Connell, Lee, O'Connell and Edison.