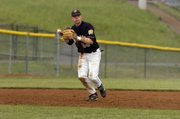 <b>Coach: </b>Chuck Welch, eighth season (274-207)
<b>2007 Record:</b> 14-9
<b>Key Losses:</b> OF Ryan Weaver
<b>Key Players: </b>1B Matt Snyder, SR; 3B Mike Snyder, SR; 2B Richie Brown, SR; UTL Kevin Fangio, SR; C Alex Pickering, SR; SS/P Ryan Williams, JR; P Tommy Fenyak, SR.
<b>Quotable: </b>"He never takes the field without competing with every bone in his body." – Westfield head coach Chuck Welch of senior Tommy Fenyak.
<b>Outlook: </b>After a year where Westfield fielded only one senior, the Bulldogs return with a squad full of senior experience. The depth of talent on the Bulldogs has caused head coach Chuck Welch to describe his squad as "solid."
"No real superstars, just solid," he said. "It is a team that I wouldn't think is depended on any one kid to produce consistently."
The most consistent producers for the Bulldogs, however, have been twin brothers Matt and Mike Snyder, who will both play baseball next year at Ole Miss. First baseman Matt hit .433 last year with five home runs, while third baseman Mike hit .435 with eight home runs. Both were named first-team all-Concorde District.
"The Snyders are probably our best hitters and that is not a surprise to anybody," said Welch, before adding, "To be successful, we can't rely on them to be our only offensive production."
Second baseman Richie Brown will add to the Bulldogs' run production, as the senior hit .378 last year with four home runs. Senior Kevin Fangio hit .345 last year, while senior catcher Alex Pickering hit .333.
"We have a great handful of seniors that are hopefully going to make a great mark on the program," said Welch, whose squad finished 8-6 in district play. "This team is better than we were last year, but there are district teams that we face that are a little bit better."
The ace of the Bulldogs' staff will again be Tommy Fenyak, who finished with a 1.74 ERA last year. Fenyak has also taken on the role of team leader. While Welch doesn't assign captains or vote for leadership, Fenyak has assumed the role.
"Leaders to me evolve. I'm not big on the whole election process. Tommy is one of those kids that gives you everything that he has. He is the team spokesman and the team leader," said Welch of Fenyak.