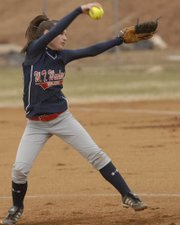 <b>Coach: </b>Bob Coleman
<b>2007 Record: </b>7-7 (Liberty District)
<b>Key Losses:</b> None
<b>Key Players: </b>1B Alex Winters, JR; SS Rachel Keung, JR; C Christina Hargrove, SR.
<b>Quotable: </b>'We are going to be young and hopefully we will get it done." – Woodson head coach Bob Coleman
<b>Outlook:</b> After just missing out on the regional tournament last year, the young Woodson softball team will lean heavily on its defense to take the next step this season.
"A strength of the team is hopefully going to be the defense," said head coach Bob Coleman. "We have to be sure-handed and we can't give up bases."
Coleman will also look for more consistency on offense from his squad.
"The thing that I want to see from them this year that I did not see last year is that I want them to be consistent," said Coleman, who added that runs were scarce for the Cavs last year. "I'm hoping that we have improved offensively. We seem to have improved. Time will tell."
Three players vital to the Cavs' offensive attack this year will be junior Rachel Keung, who batted .388 with four home runs last year, junior Alex Winters, who batted .310, and senior Christina Hargrove, who hit .344.