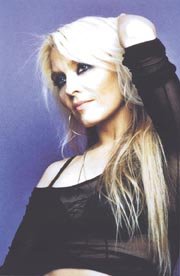 Doro Pesch embodies heavy metal's tradition of strength and the fight within a musician. From struggling through tuberculosis for most of her childhood in Germany to living the musical highlife as a female metal rock musician for the past 20 years, Pesch has faced more than her fair share of fight.
"Music always got me through the obstacles in life" said Pesch. "My biggest inspiration and motivation is always the fans. They mean the world to me. I [have] my power, energy and strength from my strong fan base." She survived the 1990s, a decade in which most metal acts faded into the background, making way for the era of grunge music. Furthermore, she raised her voice in a genre where women aren't often heard, let alone succeed, and she did so in both her native German and in English.
As the metal scene ebbs and flows with the decades, Pesch has ridden the wave with signature blond beach hair, more than 20 recorded cds under her studded belt and the advice to "stick to yourself even when you don't get much support."
Beginning her career in the mid-1980s with Düsseldorf, Germany's heavy metal band, Warlock, Pesch eventually found herself as the sole original member. Renaming the band "Doro" she continued, performing Warlock's hits and making headway with her own cult-following style. With her revamped lineup, she released "Force Majeure" (1989) and "Doro" (1990) in the United States, and then after spending a decade on international releases, returned back to the states with 2000's "Calling the Wild."
"In Europe, the traditional heavy metal scene is much bigger," said Pesch, in a phone interview. "We have so many festivals, like Wakken, which is the biggest metal festival in the world. There's so much more demand for heavy metal. On the other hand, I love touring the states because the enthusiasm of the fans is so great; they're so loving, and there is so much support."
For the past two years Pesch has been toting around the aptly named, "Warrior Soul," an epic throwback to Warlock styled rock. "['Warrior Soul' is] one of my best records, I would compare it to Warlock's [1987] 'Triumph and Agony' record. It had great songs, between anthems and fast heavy songs and some really meaningful ballads."
Bringing femininity to a typically guttural genus, Pesch has been dubbed, The Queen of Metal by many fans and subsequently, the press. "It's always so nice to hear when someone says something positive," she said. "I give 150 percent in everything I do to make the fans happy."
It seems, given her collaborations, that other industry musicians acknowledge the established title as well. Pesch's recordings have hosted both Slash of Guns N' Roses fame and Motorhead's Lemmy Kilmister, and she's been a guest on both Ozzy Osbourne and Judas Priest tours. Proving a certain allegiance from industry kings, it's easy to see The Metal Queen's place in such an exclusive culture.