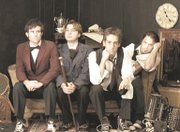 This story starts at Mars Music in Cherry Hill, N.J., where employees joined as musicians and put together a local Fourth of July show. In turn, Quick Step John stumbled into recording a three-song demo in lead singer, Craig Whitaker's kitchen.
Haphazard demos followed, recorded in shifty studios and tiny bedrooms, but kitchens are a new and different locale. From there, Clear Channel got a copy and Quick Step John found itself sharing the stage with the Pat McGee Band and Matchbox Twenty.
By no means an overnight success, the band, which also includes bassist Greg Maragos, keyboardist Ed Bagden, guitarist Fran Camardella and drummer Dave Faga, has enjoyed a career that most upstarts only hope for. Since the album's release, the band has appeared on various radio programs, Jamnow.com and NBC's "ER" featured the band's infectious single "One By One".
The group's debut EP, "The Life in Out Years," which moved them into a bedroom offering slightly better acoustics, set them up for 2007's, studio recorded, "The Multiple Personalities of Last Week and Next Year." A step up in quality and mixing, the album offers up a classic, shoulder-shaking, pop awareness so many rock bands miss the mark on. "Our rule is to not think so much about everything; five years ago [the music industry] was different," said Whitaker. "Now, you throw things up against the wall and see if they stick."
The March 20 TT Reynolds show, in downtown Fairfax, marks a return to the state where Whitaker first realized audience members were singing along with his lyrics during every song. Much to the band's delight, their reception has become warmer, the more they tour, a realization that no doubt springs from a dedicated showing.
"I want to be the best possible live performer that I can be," said Whitaker. "I want people who see us to be moved in the way that I am with all the bands I enjoy seeing." The trick to succeeding and loving life as a musician is found in consistent movement. "If you think about being different too much, you can come across as arrogant, or you can change your music too much and it ends up hurting it. We're just trying to be as honest and sincere as possible with the people who appreciate us."