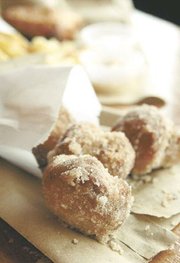 As Cathal Armstrong sees it, St. Patrick's Day celebrations in America and Ireland are about as similar as Guinness is to Corona Light.
"It's very different. St. Patrick's Day in Ireland is much more like Thanksgiving Day here. We go to church in the morning, there's a parade in the city, and then it's a family day," he said.
"The vast majority of bars are closed that day. There's no going out and drinking green beer."
The owner and culinary visionary behind the much-lauded Restaurant Eve on Pitt St., Chef Armstrong has brought traditional Irish cuisine to Alexandria in his other two Old Town eateries: The Majestic on 911 King St., and Eamonn's A Dublin Chipper at 728 King St.
Every Sunday, The Majestic features "Nanna's Sunday Dinner," a family-style meal with a pre-fixed menu that changes monthly. In March, the meal is nicknamed "The Saint and the Spud" and is inspired by St. Patrick's Day favorites; at its centerpiece is a roast leg of lamb with lamb jus and a navarin of spring peas, carrots, and onion. It serves four people for $78.
"One of the most traditional ways to prepare leg of lamb is you take a roasting pan, put in some potatoes and onions and put the leg of lamb on top of it. Put the whole thing in the oven and bake it together," said Armstrong, whose Executive Chef Shannon Overmiller oversees the kitchen at The Majestic.
At the Chipper, the simplistic joys of fresh fish, hand-cut chips and a variety of adventurous sauces remain the staples for the bustling corner eatery.
But can fish-n-chips be considered health food?
ARMSTRONG WOULDN'T go that far, but he did say that the fare at Eamonn's is healthier than some may assume.
"It's a 100-percent natural product. There's no cornstarch, there's no corn filler, there's no preservatives in it or anti-biotics or steroids involved. There are no trans-fats in the oil that we use. It's Canola oil, which is low in saturated fat and bad cholesterol. We add a little bit of carbohydrate in the form of the batter, which is helpful and good for you in moderation," he said.
"When you break it down into what it really is, and then analyze it to another fast food option, it is considerably healthier."
The mainstay on the Chipper's menu is cod ($6.99 regular, $4 small), although Armstrong said that menu has expanded to include prawns and a new fish sandwich. Now that Eamonn's is in its second year of operation, Armstrong said he comfortable seeing its scope expand.
"You kind of get the feel for the kitchen, and what the capacity of the staff is. You are limited to a certain extent by the space available, and the level of skill of your employees and how well you train them," he said.
The biggest stunner for Armstrong? That no one beat him to the fish-n-chips punch.
"I'm more surprised that there weren't more chippers sooner here. That I find surprising," he said. "The chippers have in been Dublin for 150 years. But that trend never repeated here for some reason. Who knows why? The product is good, it's fresh, it's way healthier than any other fast food."
But if there's one constant about Irish-style cuisine, it's being under-appreciated.
ASK ARMSTRONG about the current culinary state back in Ireland, and he'll break it down in historic terms:
"The people of Ireland weren't allowed to eat anything except for potatoes. There really wasn't an opportunity for a food culture to develop there. Everything was export, or taken by the ruling class. Up until the turn of the century.
Then poverty continued to be very prevalent in Ireland until the late 1980s, early 1990s when the Celtic tiger came into existence. The government made it tax advantageous for foreign investors. Most major American corporations have their headquarters in Ireland. In 1997, for the first time since 1845, there was population growth in Ireland. And a lot of that growth was immigration. People who had fled to the United States or to Europe for greener pastures were returning to Ireland — and among them were some chefs that had learned a new craft. They brought new cooking techniques to a much more wealthy nation."
Keeping in that spirit of spreading good food throughout the homeland, Armstrong is in the early stages of his next adventure in Alexandria: A butcher shop on Mount Vernon Ave. in Del Ray. It's more than a year away, but Armstrong said he's excited to eventually provide a variety of cuts and knowledgeable personnel to the classic neighborhood staple.
"There's very little expertise in that field anymore," he said.