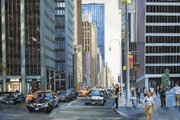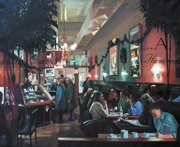 Now that McLean-based artist Susan La Mont has begun pursuing her passion full-time, she spends her days oil painting scenes from everyday life that can be chaotic yet orderly. La Mont, who grew up in New York City, is featured in two exhibitions in the area. Her show "Presence" is at the Northern Virginia Community College campus in Manassas, 6901 Sudley Road, and her art is also being shown in a group exhibit at the University of Phoenix in Reston, 11730 Plaza America Drive, suite 2000. Although she has painted nature, florals, and skies, her focus is now on people and the landscape, sometimes urban. The current art shows feature her work that mainly shows people in urban environments with an architectural inspiration. La Mont uses detail to show the chaos of everyday life, but creates her art in a way that brings order to the images that she hopes an average viewer can look at and appreciate.
"There's so much detail that things can easily become chaotic," La Mont said of her work. "So the underlying or unconscious 'grid' gives the viewer a sense of order, much like the way newspaper designers use a grid to organize the text and photos on a page."
LA MONT, who has studied at Pratt Institute, Syracuse University, and George Mason University, said her work is realism and that architectural structure inspires her. The detail of architecture is what she uses as a basis in bringing her paintings to life. Her attention to detail and the way she paints allows every facet of the painting to be seen in a calm and orderly manner. Many of her recent paintings involve storefronts with an emphasis on the reflections of what is occurring inside and outside. Her work "Heartland" shows a young woman walking in a city in front of a restaurant. La Mont uses details to show the reflections off the restaurant windows that reflect cars passing and a photo shop across the street. Inside there is man cleaning a table and patrons sitting around. "There's a lot of detail and they tend to be storefronts or shop windows," she said of the detail in her work. "There's a lot of reflections on the glass surface of what's going on behind the viewer and then there's the interior space. They tend to look very layered."
La Mont said in the real world there is "so much to look at and try to make sense of" and she likes to incorporate that in a manner so everything can be viewed in a structured sense. This makes it easier for her target audience, the average person or casual art fan, to enjoy her work. "When you see all the detail in the paintings you can sort of make sense out of it," said La Mont, who taught graphic design at NVCC for 15 years. "After awhile the whole picture begins to come into view."
"I'm painting for the average person who may not have a background in art, but I'm using realism and a visual language that everybody can understand," said La Mont who travels with her digital camera wherever she goes and uses photos as her reference when beginning her work. She wants the viewer to be able to see a story in her work and come to a conclusion. "The viewers can make up their own story, draw their own conclusions."
To learn more or to inquire about bookings or purchasing visit www.susanlamont.com. Her show at NVCC campus in Manassas runs through March 31 and the show at University of Phoenix in Reston runs through March 29.