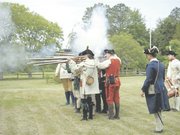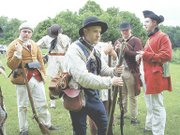 The year is 1781 and Benedict Arnold is burning his way across Williamsburg as part of the British invasion of Virginia during the Revolutionary War.
Most of the troops from the 2nd Virginia Regiment, which was made up of several county residents, were captured the year before during a campaign in Charleston, S.C. So, across the commonwealth, community militias scramble to ready themselves against a possible British attack.
Next Saturday, the local militia will once again muster to drill and generally prepare for possible action. This time around, however, the action will be a barrage of questions from present-day residents curious about life in the 1700s.
The 2nd Virginia Regiment, a nonprofit Revolutionary War re-enactors group, will demonstrate a militia encampment at Claude Moore Park complete with firing drills, cooking and camping demonstrations and the opportunity for residents of the 21st century to interact with those from the 18th century.
"It's going to be visual," Mark Mink, assistant park manager at Claude Moore said. "It will be a historically accurate portrayal of the life and times of a colonial soldier."
WHILE NO battles took place in Loudoun County, records show the county had the highest volunteer rate of any other Virginia county during the war, according to the VAGenSearch Web site, a genealogy research and document retrieval firm based in Loudoun County.
Those volunteers would have been members of the 2nd Virginia Regiment, which did all of its fighting elsewhere including major battles in Philadelphia and North Carolina, said Todd Post, president of the present-day 2nd Virginia Regiment re-enactors group.
So in order to give an accurate portrayal, the group will "impression" the local militia, which would have mustered during the British invasion of Virginia in 1781.
"No Virginians who served during the Revolutionary War fought in Virginia. They served in other places," Post said. "So when we do an event in Virginia, we don't want to invent history. The family that owned the property [that is now Claude Moore Park] were involved in the militia."
Post, 33, a resident of Arlington, has been a re-enactor since he was 14 and helped form the 2nd Virginia Regiment nine years ago.
"I've been interested in history my whole life and begged my parents to get me involved in a group like this," he said.
Visitors next week will see the militia members do drills, firing demonstrations, cook period-appropriate camp food and have an opportunity to interact one-on-one with the soldiers.
"THE 2ND Virginia is pretty hard core," said Bryan Kennedy, 44, an eight-year member from Fredericksburg, Va., "which means it's pretty accurate."
Members of the group either make their own uniforms and other clothing or have it specially made since period-correct materials, patterns and hand stitching is required. The Revolutionaries did not have access to sewing machines or mass production.
The event next week is different from the group's primary impression, which is that of a Continental solider since that wouldn't be accurate for Loudoun County.
"We try to tailor our impression to an actual event," said Kennedy. "It's 1781, so we're militia. We always try to come with a when and where."
Post said there was some small-scale fighting here, which necessitated the need for an active militia.
"It's hard for people to imagine there was Revolutionary War history here," Post said. "The only people left in Virginia were militia and they couldn't compete with the British Army."
Post said Continental Army reinforcements came to Loudoun County in 1781, until they arrived, it was up to the militia to defend the commonwealth.
"We want people who come next Saturday to know what role the area played," he said.
Demonstrations also give the group the opportunity to dispel myths, said Post. For example, he said, many people believe those who lived during colonial times were shorter because of the size of doorways. He said that's not true. Virginia recruitment records listed the height of each recruit, he said, so historians know the average height was only about an inch or two shorter than it is today.
THE 2ND VIRGINIA is made up of about 30 members, ranging from college students to retired high-ranking military personnel. The nonprofit draws its membership from all over Virginia with a few members traveling from out of state to take part in events. The regiment takes part in events all over the country, especially from the Hudson Valley to South Carolina, mimicking the campaigns of its predecessors.