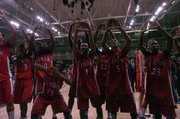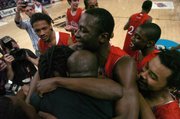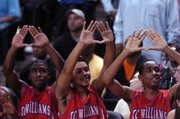 During the Patriot District championship, an opposing student held up a poster. In the line of sight as the team entered from its locker room, the cardboard simply read "Forget the Titans."
A district and Northern Region championship later, T.C. Williams ensured that no team would ever forget the 2007-2008 Titans by adding to their trophy collection. The Titans won the school's first Virginia AAA boys' basketball championship since 1977.
"I told you, we collect 'em," Titans head coach Ivan Thomas, referring to the school's trophy case. "We're going to enjoy it."
T.C. Williams led by the triumvirate of Anthony Winbush, Travis Berry and Edward Jenkins, downed Bethel High School at Siegel Center on Friday. The triple-headed attack combined for 59 of T.C. Williams' 70 points and spearheaded a defense that forced 20 turnovers and again held an opponent to a season-low shooting percentage.
"Everything went right tonight," Thomas said. "We played inspired basketball. This is the most unselfish group of young men I've ever been around... "I said, 'if these big three come to play, we're tough to guard.'"
The defensive tone was set from the very beginning as Bethel missed its first five shots. Winbush opened the scoring by nailing a trey from the left wing to give T.C. Williams the early lead. The Titans never trailed.
"We came out here with no big-name players," Jenkins, who scored 22 points after a 3-of-15 shooting night in the semifinals. "We won states. That was our biggest goal. We came together, through thick and thin…we achieved our goal."
Winbush added 14 points for the Titans, including a 35-footer as the third quarter buzzer sounded to give T.C. Williams a 48-30 lead.
Mbai Goto Olivier, a 6-foot-7 Clemson signee led the Bruins with 19 points and 11 rebounds, while Brown-bound senior Bill Weaver added 14 points and Jontell Evans 11. Bethel (30-2), who held a 40-28 rebounding advantage were largely considered the favorites heading into the much-anticipated match-up. But it was the Titans, who overcame a feat that six previous Northern Region teams had previously failed at.
"It means a lot to bring [the title] back to Northern Virginia," said Thomas, who crumpled to his knees as the buzzer sounded.
With his team crowding at midcourt, he knelt on the floor and bobbed continuously, while getting choked up.
"It was tough," Thomas said. "[Our family] went through so much. It was gratifying that she was able to make that sacrifice."
For Jenkins, who scored 22 points and had two treys, the state championship was the culmination of a season-long mission.
"There were no ifs, no buts," said Jenkins. "We told [coach] we were going to win states, and we did."
Frontcourt senior reserves Tomas Camara and Joshua Jordan stifled the Bruins' frontcourt, while Javonta Campbell added a big boost at the point guard slot. But for Thomas, who likened his big three to the team's heart, confidence and brains, the trio was the difference.
"I said, 'if these big three come to play, we're tough to guard,'" Thomas said.
The Titans sustained their postseason dominance, capping their season with a 29-3 record and a 14-game winning streak.
"I couldn't have asked for better group of young men," Thomas said. It's hard for me to put it into words to describe them. It gives me tears of joy and that's why I was crying. This team is special to me."