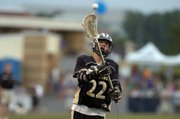 <b>Coach:</b> Gary Malm
<b>2007 Record:</b> 15-6
<b>Key Losses:</b> D Wade Shelton, M David Slover, M Sean O'Sullivan, Adam Dahms and Kenny Talbot.
<b>Key Players:</b> G Ross Lavin, SR; D Ryan Fisher, SR; Brett Hagen, SR; A Peter Perley, SR; A Seth Patterson, SR; M Craig Andres, SR; D Evan Winfrey, JR; D Charlie Ohrnberger, JR.
<b>Quotable:</b> "They had our number. They were better than us last year. Do we have a little chip on our shoulder? I hope so." — head coach Gary Malm.
<b>Outlook: </b>The Westfield Bulldogs' April 10th game at home will mean a little more than the eight regular-season games proceeding it, or the two following. On that particular Thursday night, the Robinson Rams will travel to Westfield in the two team's first meeting since the Rams embarrassed the Bulldogs in the Virginia state final, 11-3. In fact, the Rams kept the Bulldogs from winning the Concorde District title, Northern Region title and state title, beating Westfield four times last year.
"They had our number. They were better than us last year. Do we have a little chip on our shoulder? I hope so. Lose to them in the championship game, 11-3, it's not very good. I think that there is definitely going to be some motivation to beat them," said Malm.
The Bulldogs see their opening this year to not only beat the Rams, but claim the Concorde title. The Rams graduated 18 seniors from last year's squad, the Oakton Cougars graduated 17. Robinson and Oakton account for the last five Virginia state titles.
Malm doesn't believe in a down year for the Concorde. In fact, he believes playing in the toughest district in the state is a positive thing for the Bulldogs.
"Having this many good teams in the district is a good thing for everybody," said Malm.
If their district schedule wasn't hard enough, Malm's squad starts out the season against a Who's Who of lacrosse heavyweights, playing West Springfield, Madison, Woodson and St. Albans in the District.
So far, so good. The Bulldogs edge both Springfield and Madison, while playing a good game against St. Albans, despite the 12-2 score.
"We got a lot of positive things out of it," said Malm of the St. Albans game. "They were very good. I don't know if we are going to see anybody that good in our region."
Despite the strong start, the Malm knows that nothing really matters until a month from now.
"The most important thing is late April," he said."