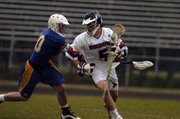 <b>Coach:</b> Jon FitzGerald (295-81)
<b>2007 Record:</b> 14-6
<b>Key Losses:</b> A Reid Mayberry, A T.J. Cormier, M O'Brien Berry, A Robert Robertson.
<b>Key Players: </b>M Paul Gaski, SR; G/A Ross Fernandez, SR; D Sean Meacham, SO; A Paul Tunick, JR; A John Garguillo, JR; M Dallas Wiggins, SR.
<b>Quotable: </b>"By the end of the year, Woodson will be a top five team. They are extremely athletic and they are well coached. There is a lot of change going on in their club. They have a lot of athletes. I think that we were lucky to catch them before they were at their best." – Chantilly head coach Kevin Broderick after beating Woodson, 9-6.
<b>Outlook: </b>When it comes to a history of success in the Northern Region, few have the kind of resume that the Cavaliers bring into games. The Woodson boys lacrosse team has won seven Liberty District championships, including the last four in a row. The Cavs were Virginia state champs in 2000 and have appeared in three Northern Region finals since 2000, winning twice.
With such success comes the inevitable graduation of top players. The Cavs were hit hard this year, losing 80 percent of their offense from last year, including Reid Mayberry (Salisbury), T.J. Cormier (Catawba) and O'Brien Berry (St. Johns).
Returning senior midfielder Paul Gaski (18 goals, 8 assists) will take control of the offense with returning senior Ross Fernandez (.620 saves percentage) in goal as well as splitting time at attack.
Head coach Jon FitzGerald will look for his first-year varsity players to step up this year to help fill the void and become "major contributors now, as opposed to next year." The Cavs athletic defense, led by junior Sean Meacham will keep Woodson in games as the new offense begins to gel.