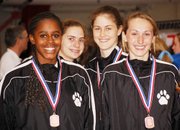 The Lake Braddock indoor track team celebrated three All-American relays over the weekend at the National Scholastic Indoor Championship at New York City. The Bruins' girls 1600-meter sprint medley relay, comprised of Zoie Seay, Stephanie Lacasse, Becca Sinichko and Liana Epstein, finished third overall with a time of 4 minutes, 6.90 seconds, breaking the school record by five seconds. The girls' shuttle hurdle relay team of Melanie Akwule, Chantal Ingram, Emily Ingran and Kerry Noce nearly took home a national title, placing second by .002 seconds and breaking the school record. The Bruin boys also got into the act, placing sixth in the 4x400 relay with a time of 3.24.27.
"It's hard to get all the light bulbs turned on on the same day, but we did a pretty good job of it," said head coach Mike Mangan. "It was an awesome trip."
The Bruins' weekend at the NSIC meet was the best for the school since 2000, when Lake Braddock had four All-American times. That year, the Bruins took home dual state titles on the boys and girls side.
"Comparing ourselves to that group is pretty great," said Mangan.