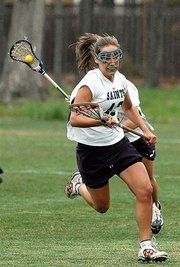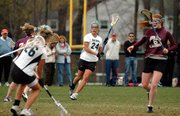 During a regular school day at St. Stephen's & St. Agnes, Kathy Jenkins spends her afternoon instructing four fifth grade physical education classes. Therein, according to the longtime girls lacrosse coach is the vaulted secret to the Saints' 31-year dynasty.
"The drills I do with the fifth grade, I do with the seniors. I'd say [field hockey coach] Marsha [Way] is pretty much the same, how they pass, how they control…and understanding the game," said Jenkins, who has been at St. Stephen's & St. Agnes for the since 1971. "We don't do a lot of fancy things. We're into good strong basics."
The old-school mentality of both Way, who capped her 29th season with a third Virginia Independent School Athletic Association title, and Jenkins, in her 32nd season as the girls lacrosse coach, has produced a well-oiled winning machine.
"It's about honest effort and finding out who you are, and really digging sometimes," Way said recently. "That's how we can win games, sometimes by finding the heart that we need to do it."
Consider their ridiculous resumes. Way has a 415-57-41 career record and has been named the Alexandria Sportsman Club's Coach of the Year twice. In 2007, the Saints finished undefeated at 23-0-1, won the Interstate Athletic League for the 18th time in 23 years and also took the ISL tournament title. It was the first time SSSAS had won all three titles in field hockey.
Meanwhile, Jenkins has a 467-41-9 career record, which includes 19 ISL championships and the only two VISAA titles they've participated in. She has also been named Alexandria Sportsman Club Coach of the Year twice.
"We're both sort of old school with basic skills and the girls are all about hard work and commitment to the program," Jenkins said.
For both coaches, they'll deflect the credit to their respective players, which often encompasses sets of sisters or mothers and daughters. But as the only stagnant forces in 30-plus years of Saints sports history, cultivating and honing the talent are vital necessities to continuing their utter dominance.
"[The girls] come through the school so it's all they know," Jenkins said. "They don't know any different because they haven't been anywhere else. They've played for Marsha or for me so they're used to hard work. They're used to commitment. They're used to winning. They don't like not to win."
<b>BOTH SPORTS</b> seem to reload season after season. The 2007 lacrosse squad, which finished the season ranked No. 2 by the Web site laxpower.com, won the ISL regular season, tournament and VIS titles, becoming just Jenkins' second team to complete the 'trifecta.' The Saints spit out 10 Division I athletes, including two that played on the under-19 national team. This season, Jenkins has only four returning starters, but nine players that have already inked Division I scholarships.
In the fall, field hockey had three players named to the VISAA all-state team, including two first-team selections and a slew of Division I signees.
"A lot of girls who play field hockey probably play lacrosse," Jenkins said. "In lacrosse, it's just grown the last few years so all of the girls are on club teams and go to more camps in the summer. We have to play nationally ranked teams and we have to travel more, where Marsha is more about the area, the league and the state."
On Friday, the lacrosse team will fly to Florida for five days before beaming to Chicago for a nationally renowned tournament. SSSAS also has a much-anticipated yearly match-up with perennial power Moorestown (N.J.), with each team splitting the four game series. The Saints travel to take on the Quakers, which finished No. 6 nationally last season according to laxpower.com, on April 19.
"With the type of schedule we play, the girls have to work hard and continue to practice a lot of school," Jenkins said. "They have to be in shape. They have to run and start lifting."
Each head coach cited the immense motivation and pride for continuing their winning ways, though each said the process is tough on their teams. The girls don't want to be associated with the team that failed to carry on the title-taking tradition.
"Everyone is out to get us so I think for the girls, it's a huge commitment to the athletic program in going to camps, preparing properly and keeping up with their academics. I think it's hard on the kids," Jenkins said. "I think there's a lot of pressure on them. A lot of it is good pressure, but it's hard because they're trying to compete."
<b>TALENT ASIDE</b>, both coaches are known to employ various motivational techniques to require the constant attention that separate the really good teams from the premier programs.
"It's more pressure on them and all of us because the times have come where there are a lot more teams playing and everyone is getting competitive," Jenkins said. "If you want to be at the top, you have to work harder. I have to work harder."
According to players for both programs, the same technique applies for field hockey.
"Coach Way is tough as nails," said Taylor, who scored the decisive goal in the VISAA field hockey championship. "But she has a soft inside. She pushes us above and beyond our potential and brings the best out of every person on and off this field."
While Jenkins has a similar demeanor, she regularly invites the entire team over to her home prior to the season. Just last season, the lacrosse team came over to watch tape of a one-point Moorestown loss. The method worked, as the Saints breezed by with a 13-5 victory.
"We meet with them about leadership, commitment, work ethic and how to help everyone else," Jenkins said.
The coach, however, prefers to let her players foster their competitiveness themselves. The 2007 team promised to skip the prom if they lost to the Quakers for a second year in a row. They didn't, but the mere fact that they were willing to bypass the formal event was enough to underscore their will to win.
"If you make it fun and you let them have to build the confidence within themselves…if you come down hard on them and try and push them, then everyone is too nervous," Jenkins said. "You have to help them relax, but enjoy it and work really hard."
<b>THE CONSTANT QUESTION</b> both coaches constantly combat is how long they will continue to coach. Way stepped into semi-retirement in relinquishing the SSSAS girls athletic director position two seasons ago. She maintained during the fall that she still enjoys coaching, especially in overseeing practice.
The same passion applies for Jenkins, who also coaches middle school tennis, basketball, fall lacrosse and jayvee tennis.
"I feel lucky to have this job and have the opportunity to coach these girls. I keep thinking at some point, I'm going to hang it up. I really enjoy it. I love the girls and going out to practice, but it's getting harder and harder."
Despite the yearly time commitment, both coaches continue to cherish the relations that are inherently fostered.
"Seeing them have success and feel good about it, is a reward for us," Jenkins said.
Way, whose 1995 team went undefeated and never allowed a goal, agreed.
"I actually take more pride in [the relationships] than the winning," Way said. "Because I think if you get that, the win comes along as the side benefit."
Though, that isn't to say that either coach is developing a soft side. And that includes Jenkins' four fifth grade P.E. classes
"We're both intense," she added.