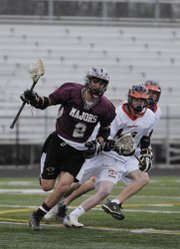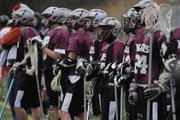 <b>Coach</b>: Dale Nalls, seventh year
<b>2007 Record</b>: (7-9, 4-2 National District)
<b>Season Ended</b>: Lost 15-2 to Madison in the first round of the region tournament.
<b>Key Losses</b>: D Justin Schumann, MF Gray Graham, MF Maurice Manning, D Lee Lingenfelter
<b>Key Players</b>: A Wyatt Floyd SR, D Danny Conlin SR, D Mike Hull JR
<b>Quotable</b>: "We have as good a shot as anybody to win the district this year. I think it's pretty wide open. There's a lot of teams that were young last year that got more mature…I think there's a lot of parody in our district this year. I don't think Yorktown is this lone powerhouse." — Dale Nalls, Mount Vernon boys lacrosse coach
<b>Outlook</b>: For a six-year span, Mount Vernon was the domineering team within the National District. The Majors didn't drop a district decision for six seasons. Of late, however, the district supremacy has shifted north to Yorktown, who has won the past 17 district games under third-year head coach Greg Beer.
According to seventh-year Mount Vernon head coach Dale Nalls, the Majors may be closing in on edging the Patriots from the district cliff despite losing the district tournament championship by 12 goals.
"Yorktown graduated key players, most of which were on the defensive side of the ball. We get stronger and more mature on offense and they lost a lot of talent on the defensive end," Nalls said. "I think it's going to help reel them back in."
The Majors only graduated four seniors from 20-7, and return most of their defensive core that includes two experienced seniors.
Senior defensemen Danny Conlin and Mike Hull will be relied upon to bolster a defense that allowed seven games in double-digits last season, all of which were losses.
In the past two games this year, the Majors rotating stable of goalkeepers have given up 32 goals, compared with 24 over the first two games.
"We're going to have to play better on defense. I think every man, across the board is going to have to improve our communication on defense," Nalls said.
On the offensive end, senior attack Wyatt Floyd will pace an offense that is averaging 10.2 goals this season. The midfield features two seniors, three juniors and a sophomore on their top two lines. Nalls, however, still sees the offense as an area for improvement
"Offensively, we're still trying to gel the offense. Some guys feel like they need to do more than they have to and some other guys feel like they don't have to do more than they should," Nalls said. "We're trying to get comfortable with everybody."