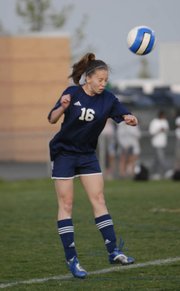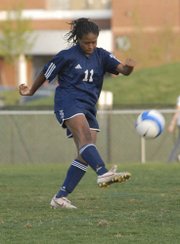 <b>Coach</b>: Kellie Mastrodonato, sixth year
<b>2007 Record</b>: (12-3-3, 5-1-1 Patriot District)
<b>Season Ended</b>: Lost in penalty kicks to Madison in the quarterfinals of the region tournament.
<b>Key Losses</b>: MF Laurel Pastor, D Corinna Strickland, F Jenny Taylor
<b>Key Players</b>: GK Beth Anne Nowak JR, F Amalya Clayton JR, Brittany Kippstein, MF Katie Scanlon JR
<b>Quotable</b>: "What we really want to do is sort of build on the success we've had the past couple of seasons. We want to come through our non-district matches as competitively as we possibly can and look at that as building for district play. In terms of district play, our goal is to finish at or near the top. We would like to have an opportunity to play for the district championship again … I don't know when the last time was that West Springfield won back-to-back district championships, but when I talk to the girls, that is our goal." — Kellie Mastrodonato, West Springfield girls soccer coach
<b>Outlook</b>: West Springfield is growing weary of watching Lake Braddock win all of the postseason accolades. As the back-to-back AAA girls state champions, the Bruins' championship shadow has eclipsed West Springfield's recent success.
In 2007, the Spartans lost to Lake Braddock in the regular season, but notched a 2-1 victory over the Bruins in the district championship. This year, the Spartans are hoping they have enough to again overtake their rivals for district supremacy.
In her sixth season, head coach Kellie Mastrodonato admits she doesn't have the talent as she did with Laurel Pastor, Corinna Strickland and Jenny Taylor manning the field.
"This team doesn't have as many gifted, truly skilled and talented players that can shred a defense," Mastrodonato said. "That's something we're trying to work on."
But the cupboard isn't bare, as a talented junior class steps to the forefront.
Goalkeeper Beth Anne Nowak, who started on the JV team last season, should build on a strong 2007 season.
"She had a heck of a season and was a real integral part of our success last year," Mastrodonato said. "I love her leadership … she really took that position and filled a leadership role in organizing the defense. She's a great communicator, plays within her ability and is a very smart player."
Nowak received an ankle injury with her club team in late December and was cleared to play on Tuesday, though she'll have to re-earn her spot after missing the preseason.
Junior forward Amalya Clayton is another vital piece to the Spartans' offensive puzzle.
"She's improved every year," Mastrodonato said. "Our opponents know her the most because she's got incredible speed. This year, what I'm starting to notice already is that she's starting to put together a little more thoughtful play with that speed, so it's not let's put this ball in space and let Amalya run to it. It's, 'let's get the ball to Amalya's feet and see what she can do.' We're seeing more mature and more skillful play than what we've seen in the past."
The sixth-year head coach is also high on junior midfielder Katie Scanlon.
"I've never had as complete of an outside midfielder as I've had with Katie," Mastrodonato said. "Somebody who can contribute to your offense thoughtfully and creatively, and then also is a solid defender … I don't think I've ever had a player with such high passion for the game."
But Mastrodonato cautions that despite a star-studded roster, certain seniors filling leadership roles are essential to maintaining a district-title level of success.
Senior midfielder Brittany Kippstein, who will play at Lynchburg next season, was a second-team all-district player last season and should bring experience to mesh with the juniors.
"She's our leader on the field, a quarterback if you will," Mastrodonato said.
Though the Spartans will be considered one of the league's top teams, Hayfield is installing a new coach and South County is poised on sustaining its recent bout of success.
"The district is pretty darn strong," Mastrodonato said. "You can't count anybody out on any given day. Anybody can beat anybody. I think it's great that we play in a strong district, because it's going to help all of us when we get to the region tournament in tougher competition."