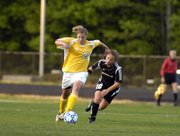 <b>Coach: </b>Jim Rike, 29th season (423-223-45)
<b> 2007 Record: </b>13-2-3
<b> Key Losses:</b> D Lauren Hallauer
<b> Key Players:</b> GK Katherine Yount, SR; MF Kristen Smith, SR; F Audrey Barry, SO; D Monika Criman, JR; D Ali Heck, SO; F LeighAnne Baxter, JR; F Jensen Smith, SO; D/MF Brooke Curtis, SO; MF Annie Hoveland, JR
<b> Quotable:</b> "My kids love to play tough teams, so this is perfect for us. Come tournament time, our kids are seasoned to play in big games." – head coach Jim Rike
</b>Outlook:</b> The Robinson girls soccer team enters the 2008 season with a great deal of expectations. The Rams are currently ranked second in the National Soccer Coaches Association of America poll and first in the VHSCA state poll.
Of course, those polls don't mean much to Rams' head coach Jim Rike.
"The rankings and stuff are nice, but they put a big target on your back," he said. "It is not where you are now, it is where you finish."
Rike, who has led the Rams to four state titles and eight Northern Region titles in 28 years, returns nine starters this year, including first-team all-state senior goalkeeper Katherine Yount, first-team all-district sophomore forward Audrey Barry, first-team all-district senior midfielder Kristen Smith and second-team all-district defender Monika Criman. Six of Rike's nine starters started on the squad as freshmen.
With the talent level on his squad, Rike also has to share his girls with club soccer teams, which play year-round, regardless of when high school soccer is in season. All of Rike's Rams split time on a club team.
"It is a cross that you have to bear and if you have good players, they are going to be on good [club] teams. They play in all these tournaments, so you are going to be missing some of them from time to time," said Rike. "I just send them off and hope that they come back healthy."
This weekend, wedged in between important games against Stone Bridge and Lake Braddock, the Rams' players will attend the Jefferson Cup, the No. 5 ranked youth soccer tournament in the country.
On the high school side, Rike has made sure to test his squad early this season, traveling to the Virginia Beach High School Invitational over the weekend to play Eastern Region powerhouses Cox and Kellam.
The Rams won both games.
"My kids love to play tough teams, so this is perfect for us. Come tournament time, our kids are seasoned to play in big games," said Rike. "Let's go see these teams, because we might see them down the road [in the state tournament]."
Coming just a penalty kick short of the state tournament last year, Rike puts making the big dance on the top of his list of goals this year.
"Ultimatley, our goal is to get to states," he said. "We are preparing ourselves and hopefully we will get there."