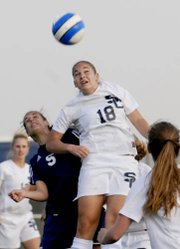 <b>Coach: </b> Maureen Saale, second season
<b> 2007 Record:</b> 10-4
<b> Key Losses:</b> F Erika Hollenburg, GK Lauren Reinshuttle
<b> Key Players:</b> M Morgan Duffy, SO; F Alex Reed, SO; D Megan Rea JR
<b> Quotable:</b> "We can put in anybody. It is very reassuring and we are very confident, not cocky, just very confident in our talent." – head coach Maureen Saale
<b>Outlook: </b>In the locker room before the Stallions' 3-2 win over Madison on March 25, a South County girls soccer player stood up and addressed her team.
"She said that we all have so much respect for each other that we don't want to let each other down," said head coach Maureen Saale. "That is very true. They have a lot of trust and respect for their teammates, which is nice to see."
Saale believes that it is that respect that will lead the Stallions to success this year.
Last year, the Stallions fostered that respect on a very young squad, comprised of mostly freshman and sophomores, but their young age belied their maturity on the field.
"Some people see a young team, but most of our girls play on pretty high-level club teams, which has been a bonus for us maturity-wise. They are used to that higher level of competition," said Saale.
The Stallions finished with a 10-4 record and return all but one key started this year – forward Erika Hollenburg, who chose not to play this year. To add to the Stallions' young talent, Saale brought in three more freshmen, two of whom will start for the team this year.
"We brought on three more freshman, so it is almost as though we are adding to our young talent that we already have. Those three players have already been an asset to our team."
This season, Saale has also worked to fix the Stallions' weakness of last year – the team's defense. Playing four in the backfield this year, the Stallions will start three new defenders and a new goalkeeper.
"We seem to have gotten that together this year and hopefully that will be one of our strong points going through the season," said Saale, whose team has allowed a total of three goals in two games and a scrimmage. "It is a new group back there and we are pretty impressed with what they have done so far."