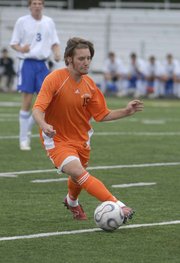 <b>Coach</b>: Andy Saffron, fourth year
<b>2007 Record</b>: (10-3-5, 6-0-1 Patriot District)
<b>Season Ended</b>: Lost 2-1 to Thomas Jefferson in the quarterfinals of the region tournament.
<b>Key Losses</b>: D Rodrigo Guevara, MF Nate Thomas, MF Kai Eckenrode
<b>Key Players</b>: MF Bayron Gudiel SO, MF Eddie Rivas SR, D Mike Newhall JR
<b>Quotable</b>: "I think we can compete in our district. We're not there yet and hopefully it'll come together here in the next couple of games before districts start…we're looking to defend that [regular season] district title and move on from there." — Andy Saffron, West Springfield boys soccer coach
<b>Outlook</b>: West Springfield's boys soccer program is synonymous with state championships. Having won three from 2001-04 under then-head coach Randy May, the Spartans were morphing into a soccer powerhouse.
Instead, this season — Andy Saffron's fourth as head coach — an unlucky string of injuries and untimely defections have led to three straight blowout losses, and five straight if one includes the preseason scrimmages.
Gone are would-be seniors Kai Eckenrode and Tyler Bitancurt, both of whom Saffron would have likely tagged as captains. Eckenrode moved to England to play semi-professionally, while Bitancurt elected not to play after accepting a scholarship offer to be a kicker at West Virginia.
"In years past, it's been easy to have lofty expectations," said Saffron, who is in his 14th season either as an assistant of head coach at West Springfield. "It's been maybe, higher talent level or guys that have played together for a long time. We were able to win state titles and guys were able to have that feeling. This year, it's going to be a day-to-day thing. We're going to have to grow into it."
That season-long maturing process will likely be led by sophomore standout Bayron Gudiel, an attacking midfielder with a passion for the game.
"Bayron is one of those special players," Saffron said. "You don't get them all the time. He's a positive influence with the way he practices, the way he plays."
The Spartans return eight starters, including four seniors, but have been hampered by nagging injuries, which are wreaking havoc with the team's ability to gel.
"Part of the problem is that not only do we have a lot of new guys, but we have a handful of guys that are injured so then you're shuffling guys in and out of the lineup," Saffron said.
The coach, however, is content with the returning crop, especially given they won the Patriot District regular season before bowing to Lake Braddock in the championship. The defense had six shutouts and surrendered less than a goal per game in 2007.
"The guys are all pretty technical," Saffron said. "The guys who we have playing in the back are pretty good defenders."
That stout defense hasn't been shown, however, especially in a 4-1 loss to Stone Bridge and the subsequent road loss to Centreville to start the season. During the two scrimmages against Robinson and Broad Run, the Spartans gave up a combined six goals.
Saffron, though, remains confident and thinks his team will adjust to the fresh faces, which includes five transfers. Freshman midfielder O'seinie England, a Jamaican native who moved approximately six weeks ago, and Lee transfer Josue Lopez are both going to be relied on to provide some much-needed scoring.
"The guys are trying to find their way, just trying to mesh," Saffron said. "We have a lot of new faces with people that have transferred into the schools … they're working hard, just trying to find some continuity."