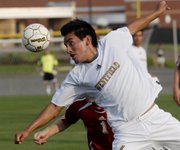 <b>Coach: </b>Tom Torres, fourth season (40-13-9)
<b>2007 Record: </b>15-4-3
<b>Key Losses: </b>MF Bryan McAllister, F Tony Rodriguez, F Sean Murnane
<b>Key Players: </b>MF/F A.J. Sheta, SR; MF Trey Messiah, SR; D Kyle Guthrie, SR; F Ricky Guerra, SR; GK Tony Norsal, SR
<b>Quotable: </b>"I think that any time you bring back 14 seniors that all have some decent ability, you are going to be optimistic." – head coach Tom Torres
<b>Outlook:</b> Due to a trip to the Northern Region finals last year and the fact that the Bulldogs will start 10 seniors, including first-team all-region senior forward A.J. Sheta, a great deal of hype has landed in the lap of the Westfield boys soccer team. Head coach Tom Torres is quick to point out that while highly regarded, the Bulldogs haven't won anything yet.
"I think that we have a lot of guys back, but we are really unproven," said Torres. "We haven't earned anything yet, so I'm cautious."
Make that cautiously optimistic .
"I think that any time you bring back 14 seniors that all have some decent ability, you are going to be optimistic."
For the past three years, the Bulldogs have made some noise in the postseason, winning two Concorde District titles and advancing to the state tournament twice, including advancing to the state final four in 2005. The Bulldogs, however, are without a state banner.
"The stars have to be aligned and everything has to work out for you," said Torres.
Sheta, scored 10 goals with 12 assists during the Bulldogs 2007 campaign and looks to have another impressive year.
"For him, this is his last chance. We have fallen short a few years now," said Torres. "For him, this is the culmination of his freshman year to now."
Starting for the Bulldogs since he was a freshman, Sheta will be the focal point of Westfield's offensive attack.
"He has grown each season. He gets stronger and bigger and more talented each season. He is just the engine that drives our team," said Torres.
Joining Sheta will be senior playmakers Trey Messiah and Rickey Guerra as well as senior defender Kyle Guthrie and goalkeeper Tony Norsal.
"I like our chances," said Torres. "I like how many guys we have coming back."