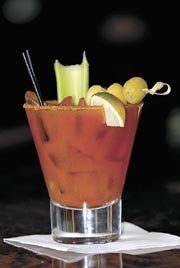 The Bloody Mary mix drink may have borrowed its name from a British figure, Queen Mary I of England, but the cocktail is distinctly American. Bartending books trace its origins back to mid-20th century New York City or Chicago, depending on which account one chooses to believe.
Considered a cure for a hangover, the Bloody Mary is also one of the only alcoholic drinks more likely to be served during breakfast than dinner.
Local bartenders said the drink — made from a base of vodka and tomato juice — is not for the faint of heart. It is served better hot and spicy than mild.
Here are how some area restaurants and bars serve the drink:
<sh>Austin Grill
<bt>8430-A Old Keene Mill Road, Springfield
<bt>The "over 30" crowd typically orders Bloody Marys at this Tex-Mex restaurant's weekend brunch. The drink is as popular with younger partrons, according to bartender Jose Gutierrez.
"I usually only make them on Saturday and Sunday mornings or pretty much any time people have a hangover," he said.
As a base for the beverage, Gutierrez uses tomato juice, vodka, salt and pepper. He then adds Dimitri's Bloody Mary mix — a dark grainy sludge that contains vinegar, Worcestershire sauce, chili peppers and lime juice.
The mixture gives the drink a real kick not found in milder mixes. It also goes well with the restaurant's complimentary corn chips and salsa.
<sh>Fireside Grill
<bt>9000 Lorton Station Blvd., Lorton
<bt>The Bloody Mary is the most popular beverage requested at this chic organic restaurant's Sunday brunch, according to bartender and server Brett Evans.
"Most people who order a Bloody Mary want it to be spicy and hot. I like to add a little Tabasco," said Evans.
Evans' drink presentation also resembles the restaurant's sophisticated décor.
Evans served the Bloody Mary in a fancy V-shaped cocktail glass with Old Bay seasoning sprinkled across the rim. Three green olives pierced with a cocktail stirrer lay across the lips of the cup and add a color contrast to the deep red hue of the drink.
<sh>King Street Blues
<bt>5810 Kingstowne Center, Kingstowne
<bt>Bartenders at this southern comfort food outlet make their Bloody Mary mix from scratch. Bartender Emilie Cagigas uses tomato juice, fresh horseradish, Tabasco sauce, Worcestershire sauce, celery salt and pepper in her mixture. She adds green olives and a lime wedge.
Cagigas' drink is also served in a pint glass and at least twice the size of other area Bloody Marys.
The spicy drink is a mirror of the restaurant's spicy food, including pulled pork and chicken smothered in barbecue sauce.
"They are popular during weekend brunch. I don't make too many at night," said Cagigas.
<sh>Hard Times Café and Cue
<bt>6362 Springfield Plaza, Springfield
<bt>Bartender Trischa Phipps said the Bloody Mary is not a specialty of this expansive bar with over 20 pool tables, 16 plasma televisions and music from the Top 40 chart blasting over its speakers.
"Most of our customers drink beers and shooters," said Phipps, who added that Hard Times attracts a younger crowd.
Nevertheless, the establishment known for spicy chili and wings does not leave the heat out of its Bloody Mary.
Flecks of seasoning float around in the drink made with vodka and Tabasco brand Bloody Mary Mix. The beverage comes in a short glass garnished with a lime wedge.
<sh>Hopsfrog Grille
<bt>5745 Burke Centre Parkway, Burke
<bt>Like Hard Times, this classic American bar and restaurant uses Tabasco Bloody Mary mix and vodka to make the cocktail. The Hopsfrog Grill serves the drink in a short glass with a lime wedge.
The Bloody Mary is not one of this Burke establishment's more popular beverages. Bartender Anthony Suber said the drink is more likely to be ordered by older patrons, those 40 and up.
Suber also tends to get more requests for Bloody Marys during the day than at night.
"It is occasionally ordered at night, but they are a Sunday brunch thing for most people," he said.
<sh>Mike's American
<bt>6210 Backlick Road, Springfield
<bt>People who drink Bloody Marys take their alcohol consumption seriously. They are, according to bartender Peter McCarthy, professional drinkers.
"They order them to replace the nutrients that they lost the night before," he said, chuckling.
The base of Mike's Bloody Mary is made out of Sacramento Bloody Mary Mix and vodka. But McCarthy also likes to add a mixture of horseradish, Old Bay Seasoning, Tabasco sauce, balsamic vinegar, Peychaud's Bitters, black pepper and a squeeze of lime for those who want a more "complex" taste.
"If you are really interested in a Bloody Mary, I got all the good stuff," he said.
<sh>Overwood
<bt>220 North Lee Street, Alexandria
<bt>Chef Boubker Erammi of Overwood, the wood-fired American kitchen and bar in Old Town, believes the key to a dynamic Bloody Mary is in the mix used to spice it up.
"You have to have really good spices, a really good mix. That's how you make it perfect," he said.
At Overwood, the classic drink is created with quality spirits and garnished with an unusual accompaniment: a steamed Cajun shrimp.