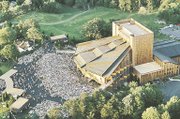 Last week, Wolf Trap Center for the Performing Arts announced the first round of its summer performances. Tickets will go on sale Saturday, March 29, at 10 a.m. More shows are slated to be announced Monday, April 7.
Highlights of June include: Trisha Yearwood June 11, James Taylor June 18, Emmylou Harris June 22, Ricky Skaggs and Bruce Hornsby June 25. In July, the National Symphony Orchestra visits throughout the month, along with Lyle Lovett July 2, Chicago July 7, Gladys Knight July 19, and Crosby, Stills & Nash July 28. In August, performances include The Black Crowes Aug. 3, Jethro Tull Aug. 6, B.B. King Aug. 10 and The Beach Boys Aug. 17. The Wolf Trap Opera Company will tackle Verdi, Handel and Strauss in June, July and August, respectively. Shows will be at the outdoor Filene Center.
No patience to wait for the weekend to purchase? A handful of shows are already on sale, including Garrison Keillor's A Prairie Home Companion, Riverdance, Rent and Les Misérables. Tickets for the Children's Theatre-in-the-Woods performances are also on sale already. For the current summer schedule, as well as classes and concerts going on now at the Barns at Wolf Trap, visit www.wolftrap.org.