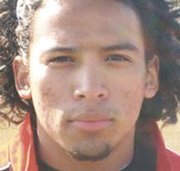 A dramatic turnaround is taking place within the South Lakes High boys' soccer program under third year head coach Corrie Adams.
The Seahawks, who for several seasons did not even when a game prior to Adams' arrival as the varsity coach in 2006, are now an exciting, up-and-coming program coming off a healthy 4-5-2 campaign a year ago.
"It was a big improvement. We had some talent last year," said Adams, who saw the 2007 team improve dramatically from South Lakes' one-win season during her initial year at the helm in 2006. "And we had 11 players on the field who played with consistency and a game plan."
An indicator of the excitement level surrounding the program was apparent in the fact that 130 kids came out for the team a few weeks ago, including 64 freshmen. Last year, a healthy 82 came out for the team. So the interest level and an overall uprising in the sport is ongoing at the school.
Coach Adams indicated it was a tough task cutting the large tryout field down to two teams — a varsity and JV squad — with so many youngsters having come out.
"Hopefully, we ended with the best 20 [players] on both teams and they'll be able to [progress] in the program," she said. "Soccer [at South Lakes] is about soccer, scholastics, community and family."
Adams is determined, along with her coaching staff, to teach positive life qualities to her players, along with bettering the Seahawk players in their sport.
"My [goal] is for them to leave with core values they've learned as young men," she said. "I very much focus on grades, behavior and family."
Adams said the team's overall grade point average (on a 4.0 scale) has risen by almost one in the last three years.
The program, across the board, is stabilizing under Adams' leadership.
<b>FOUR A FOUR-YEAR</b> stretch from 2002 through 2005, South Lakes boys' soccer did not win a single game. Now, under Adams, the team has gone from one win in 2006 to last year's four victory spring that left the Seahawks just one game under .500.
The coach said it is important for players within the South Lakes program to understand the mindset and big picture of where the Seahawks are going. Adams was the program's JV coach for two years prior to being named the varsity coach in 2005. By having coached the JV team, she said the current seniors have had good continuity over their playing careers. She wants that to continue in the years ahead.
"Consistency is an important part and [players] need to know the system they're coming into," said Adams. " [In the past] we had like three or four [varsity] head coaches over 10 years. Now, [the seniors] have already had me as the JV coach and knew what the game plan was and what the rules were."
Now, South Lakes hopes to continue to move forward in creating a winning atmosphere. Last year was a big improvement. And with the large number of youngsters coming out for the team this season, it is obvious last year's success is having a carryover effect.
"This year, we have more talent than we ever had," said Adams. "We have a crop of freshmen this year who are unbelievable and really talented players."
South Lakes, in a recent scrimmage game, lost by a 2-0 score to a talented Annandale team.
"It was the day after tryouts," said Adams, of the practice game against the Atoms. "They went out and showed huge improvement from last year. I wanted them to play a real hard scrimmage."
Then, in the team's regular season opener, the Seahawks played Oakton to a 1-1 tie. The Cougars, trailing 1-0, tied the contest with six minutes remaining in regulation.
"It was a very hard game and the boys stepped up to the plate," said Adams, proud of her team's showing in the opener.
<b>SOUTH LAKES</b> has several players who will likely be playing the game at the collegiate level one day.
One of the team's top players is senior Kyle King, a stopper and defensive team captain who is being recruited by several Div. 1 programs.
"He's very smart and anticipates very well," said Adams, of King's game. "He knows what his strengths and weaknesses are. He might not be the fastest guy on the field, but he anticipates [the play] better than anyone else."
South Lakes' offensive team captain is senior forward Santos Cerda, who is also receiving interest from several colleges. He has been the Seahawks' leading assist man over the past three years.
"He's a phenomenal soccer player," said Adams, of the talented Cerda. "He's quick and a very unselfish player. His workmanship is wonderful and he's just a great kid."
The team's center midfielder is 5-foot-4 inch senior Mohammed Ahmed, who spends as much time on the ground playing in his all-out style as he does on his feet.
"He's probably one of the most intense players on the team," said Adams. "He's always falling and getting back up."
King, Cerda and Ahmed are team tri-captains. All three were All-Liberty District selections last year.
"All three of them are great," said the coach.
Playing in the net this spring is sophomore and returning starting goalie Cameron Kearney, an athletic, 6-foot-1 inch player.
"Instinctually, he's probably one of the best goalies I've seen in a long time," said Adams, a former goalie herself who loves teaching net-minders. "He is a Div. 1 talent goalie."
South Lakes has another solid goalie in sophomore Mohammed Hassan, who will start the season backing up Kearney.
"They're the most coachable kids on the team and they are like sponges," said Adams, of her two goalies.
Two other sophomores, left back Kofi Lewis and outside midfielder Bryan Maravilla, will be impact players this season.
Lewis, who is left footed, came up to the varsity late last season from the JV squad.
"He's one of the best left footed players I've seen," said Adams. "And he's so good with both feet. He's very talented."
Maravilla also got a late season call-up in '07. A track athlete, the youngster is one of the soccer team's best-conditioned players.
"He's very quick with his feet and a very unselfish player," said Adams, of Maravilla. "He's good with the ball."
South Lakes was scheduled to play a non-district game at Mount Vernon on Wednesday of this week. Next Monday, the Seahawks will play at home against local rival Herndon. A year ago, South Lakes and Herndon played an overtime affair won by the Hornets. It has been nearly a decade since the Seahawks defeated Herndon.