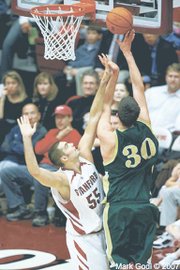 Several former Northern Virginia high school boys' basketball players are currently playing on college teams that will be competing in this weekend's Sweet 16 of the NCAA postseason tournament.
Peter Prowitt, a 2004 graduate of The Potomac School in McLean, is a member of the Stanford University men's basketball team that won NCAA tournament games over both Cornell and Marquette to reach the Sweet 16.
Prowitt, a senior center who led Potomac School to appearances in the Virginia Independent School state tournament, played seven minutes off the bench in Stanford's first round tourney win over Cornell.
Stanford (28-7) will play Texas this Friday night in Houston. It is the team's first Sweet 16 appearance since 2001.
Prowitt, a backup front court player for the Cardinal this season, averaged 6.6 minutes of playing time per contest. He played in 14 games.
A political science major from Arlington, Prowitt is in his fourth year as a member of the Stanford basketball program. As a junior last year, he was a Pac 10 All-Academic First Team selection.
As a sophomore two years ago, Prowitt scored 11 points for the Cardinal in an NIT Tournament game against Missouri State. That season, he blocked 22 shots. He scored a career-high 12 points in a game against Oregon State. He was Second Team All-Academic.
At Potomac School, Prowitt was a four-year varsity starter who set school records in career points (1,835), rebounds (958) and blocks (404).
Prowitt's parents are Peter and Nancy Prowitt.
Marcus Ginyard is a junior guard/forward for the North Carolina Tar Heels. Ginyard, a Bishop O'Connell graduate, averaged 7.4 points, 4.5 rebounds and two assists per game as a starter for the ACC champion UNC squad this winter.
Ginyard, who is from Alexandria, will take the floor with his teammates on Thursday night to meet Washington State in a Sweet 16 game being played in Charlotte, N.C. The Tar Heels (34-2) are the No. 1 seed out of the East Region. They won their first two tournament games over Mount St. Mary's and Arkansas to reach the region semis.
At O'Connell, Ginyard teamed with current University of Maryland player David Neal to lead the Knights to state private school titles.
Ginyard, in an interview posted by the University of North Carolina Tar Heels Official Athletic web site, said reaching the Sweet 16 is just one step of where the Tar Heels want to go.
"We don't think winning two games in the NCAA Tournament is a huge success for us," he said. "We've got another two-day tournament to play this weekend. And that's what we're focused on right now."
Scottie Reynolds, a 2006 Herndon High graduate and one of the Northern Region's all-time greatest players, is leading the Cinderella Villanova University team.
Reynolds, a sophomore shooting guard, scored 25 points in Villanova's 84-72, second round win over Siena last Sunday in Tampa. The win advanced the Wildcats to a Sweet 16 match-up this Friday night in Detroit against powerful Kansas.
Villanova (22-12), in a first round tournament game last week, upset the ACC's Clemson, 75-69.
Reynolds, who led Herndon to the Northern Region title in 2006, is averaging 16 points this season for the Wildcats. The 6-foot-2 inch standout has started 33 of Villanova's 34 games.
Reynolds, in an interview recorded on the Official Athletic Website of the Villanova Wildcats, said his team has played its best basketball at season's end.
"We went through some ups and downs during the season, but we always stayed consistent about what we were trying to accomplish," said Reynolds. "The last two or three weeks, we've been playing our best ball."
One of Reynolds' current teammates, Jason Colenda of Fairfax, is a sophomore guard for the Wildcats. Colenda, a Bishop O'Connell High graduate, has played in five games for Villanova this winter.