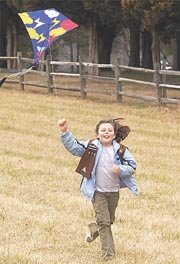 The skies above Gunston Hall play host to kites of all shapes and sizes at its Kite Festival Saturday, March 29. In its 29th year, the festival runs from 12-5 p.m. Besides kite-flying, the festival offers a puppet show, hands-on archaeology, open-hearth cooking and a modern-day fire truck on display. The "Bubble Lady" will fill the fields with bubbles of all sizes and a kite doctor will mend kites free of charge. Costumed characters introduce children to 18th-century games, penmanship and basket weaving. Participants may bring their own kites or purchase one from the Museum Shop.
Kite-fliers may purchase food from American Bar-B-Que and baked goods from the Gunston Hall Docents Association. Tickets are $8/adults, $4/ages 6-18 and free for Friends of Gunston Hall and children under 6-years-old.
On Sunday, March 30 from 1-4 p.m., Gunston Hall has a "History Highlights Tour: Destination Mason Neck," starting at the Gunston Hall Visitors Center and touring through 18th- and 19th- century sites relating to George Mason and his family. $15/adults, $12/ages 18 and under, $7/Friends of Gunston Hall.
Gunston Hall is located at 10709 Gunston Road, Mason Neck. For more, call 703-550-9220 or visit www.GunstonHall.org .