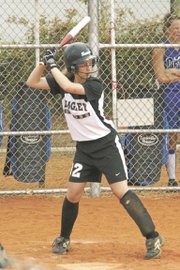 The Langley High girls' softball team claimed the championship in its division of the Grand Strand Softball Classic in Myrtle Beach, S.C. last week over spring break.
The Saxons won four of their five games, all against teams from Northern Virginia. Langley defeated Osbourn Park High (Manassas), 5-1, Osbourn High (Manassas), 2-0, Robinson 6-3, and Highland (Monterey), 5-4. It fell to Forest Park (Woodbridge), 4-3, in its second game of the tournament.
Senior pitcher Emily Willis went 3-0 and also earned a save over the week. On offense, it was a team effort as Langley had hits from 10 different players, RBIs from nine players, and nine different players scoring at least one run.
For the tournament, Langley's leading hitters were seniors Lindsay Brown (center field) and Liz Sharkey (first base/DH), who each had seven hits.
Senior Emily Willis pitched a five-hitter in Langley's tournament-opener, 5-1 win over Osbourn Park on March 17. Liz Sharkey had a two-run single in Langley's three-run, second inning, and Lindsay Brown tripled home a run in the fifth, and then scored on Kim McMasters' sacrifice fly.
Against Forest Park on March 19, Langley rallied from an early 3-0 deficit to tie Forest Park before losing, 4-3, on an unearned run in the bottom of the seventh. Sophomore Brooke Brown took the loss despite giving up only two hits in three innings of relief. Langley had nine hits, including two each from seniors Kim McMasters, Lindsay Brown and Lauren Engel.
Langley bounced back with a 2-0 win over Osbourn High on March 20. Willis pitched a complete game, five-hit shutout as Langley scored two runs in the top of the seventh to earn the win. Lindsay Brown singled in senior Christina Bumpus, who had singled to lead off the inning before advancing on a sac bunt. Lauren Engel then drove home senior Jam Mowery with a two-out base hit.
Against Robinson later that same day, Langley won by rallying from a 3-1 deficit with a five-run fifth inning. Three Langley pitchers scattered five hits. Brooke Brown pitched the first three innings, giving up one run on one hit; sophomore Shannon Engel picked up the win in two innings of relief; and Willis notched a save by closing out the last two innings on one hit.
Langley totaled 12 hits. In the fifth, Liz Sharkey, Kelsey Green, Christina Bumpus, Kim McMasters, Lindsay Brown, and Jam Mowery each had hits, with the big blow being Mowery's two-run double to close out the scoring.
In its final game against Highland on March 21, Langley again rallied after falling behind 3-0 at the end of two. Kelsey Green, Christina Bumpus and Kim McMasters loaded the bases to lead off the bottom of the third inning. Lindsay Brown followed with a sacrifice fly, Jam Mowery knocked a two-run single, and Lauren Engel drove home Mowery with a two-out single. Kim McMasters drove in the deciding run with a two-out single in the sixth inning. Willis pitched the first five innings for the win, and Brooke Brown garnered a save with two innings of one-hit relief.