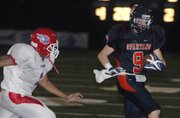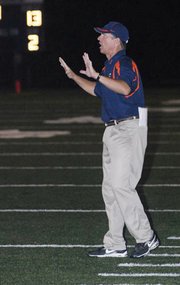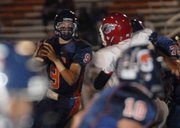 Bryn Renner, West Springfield's do-everything junior athlete stepped into the 30,000-square foot Dean Dome on March 26 and looked up.
And poof, his recruitment was over faster than his head fake.
With retired jerseys that don names like Ford, Jamison and Worthy, it's enough to impress any warm-blooded 17-year-old high school athlete. But a certain baby blue No. 23 jersey was the final straw that made Renner go public with his epiphany to finalize his football recruitment as a junior.
The rangy 6-foot-3, 192-pound coach's son decided to verbal to the University of North Carolina on March 26, essentially ending his free-for-all recruiting process that included offers from Maryland, Virginia Tech, West Virginia, Michigan State, Ohio and Delaware.
"I went down on [March 26] for an unofficial visit," Renner said after West Springfield's 6-2 baseball victory over Lake Braddock on Tuesday. "I have been down there before for quarterback camp. They offered me after the camp, so then I got the offer there. It's going to be a great fit for me."
Renner had reportedly pegged UNC as his top-flight school and after considering the academics, coaching staff, recent facility renovations, called first-year offensive coordinator and quarterbacks coach John Shoop and head coach Butch Davis at around 7 p.m. and made them aware of non-binding decision.
The news spread quickly as Renner became the 11th known member of the 2009 Tar Heel recruiting class, which includes Joshua Adams and Vincent Ray-Ray Davis, both of which are highly rated wide receivers.
<b>LAST SEASON</b>, Renner moved over from wide receiver, where he caught 95 passes for 1,332 yards and 11 touchdowns in two seasons, after current Virginia quarterback Peter Lalich graduated in 2007.
In his first year under center, Renner completed 214 passes for 2,749 yards, and had 32 touchdowns compared to seven interceptions. He can run for 598 yards and 10 touchdowns last season to bring the Spartans their first region championship in 14 years.
Renner also left the door open for playing multiple sports in college, and was touting a baseball offer prior to committing to football.
A strong-armed shortstop, Renner hit .333 with three home runs, 23 RBI and 13 stolen bases last season and was over .500 through six games for Spartan head coach John James.
Asked about his interest to play multiple sports at UNC, Renner said, "I think that I am going to go there and see what happens after this football season and just compete and see where I stand. I definitely think I can come in there and see what happens."
Since Davis was hired in November of 2006, and has since significantly stepped up the Tar Heel's recruiting profile and made national splash when he convinced Washington, D.C.-native Marvin Austin to sign in 2007. Oddly enough, there were only four Virginia natives on UNC's 2007 football roster.
Renner, however, may have some tough odds considering UNC's stable of signal-callers. The Tar Heels already have a record-setting incumbent sophomore quarterback in T.J. Yates, in addition to a highly touted redshirt freshman Mike Paulus and Braden Hanson, 6-foot-5 pro-style signee for the 2008 class.
"I think that North Carolina was the best place," Renner said. "I've had some other offers and I have seen West Virginia and Virginia Tech, but I think that North Carolina is just a great place and the people there are going to be great for four years."