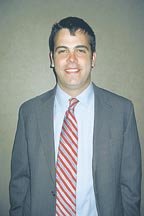 A 27-year-resident of Fairfax, Andrew Britt recently joined Signature Financial Partners, LLC as a financial representative. Britt is active in the business community as a member of the Virginia Automobile Dealers Association and the National Automobile Dealers Association.
Here, he shares a little bit about himself and his thoughts about what the Fairfax community has to offer.
Family. I am the middle son of seven to Gardner and Diane Britt, and grandson of Ted Britt. I currently live with my wife Karin and my beautiful 22-month-old daughter Katharine.
Education. I attended East Carolina University where I played soccer.
What was your first job? Washing cars at Ted Britt Ford.
Activities/interest/hobbies. Golf and deep sea fishing.
Favorite local restaurants. I enjoy any of the Great American Restaurants, Capitol Grille and most good Mexican restaurants.
Community concerns. Education and the housing market.
When you were younger, what did you want to be when you grew up? A pirate or in the NFL.
Community "hidden treasure" you think more people should know about. George Mason basketball games. I often take my daughter to the games.
Personal goals. My number one goal is to be a great father for my daughter. My professional goals as a representative for Signature Financial Partners are to always have my clients' best interest in mind and to create long-lasting relationships with each of them.
How did you begin working in the financial field? I started my career in the car business, which led me to be a finance director for the Ourisman Automotive Group. One day, I was talking to a customer who had a job in the financial industry; I immediately became interested. I chose Signature Financial Partners, an independent office of John Hancock Financial Network, because of the mentoring and support staff, as well as the high level of services they provide to their clients.
What do you enjoy most about your job? The relationships — both with clients and co-workers. I never dread coming to work in the morning.