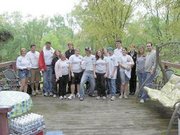 Send announcements, which are open to the public at no or minimal cost, to The Loudoun Connection, 7913 Westpark Drive, McLean, VA 22102, e-mail to loudoun@connectionnewspapers.com or fax to 703-917-0991. Deadline is Friday, two weeks before the event. Photos/artwork encouraged. For more information, call Matthew Razak at 703-917-6457. For additional listings, visit www.connectionnewspapers.com.
The Ashburn Ruritan Club is a 501C(3) nonprofit community-service organization focused on community service, fellowship and goodwill. The club aims to improve the Ashburn community by providing merit-based scholarships and support for under-funded educational programs. To join or attend a meeting, contact the club at 866-670-5984 or at ashburnruritan@onebox.com. The meetings are held the second Tuesday of the month in the Ashburn Library.
The South Riding Lions Club, which focuses on helping the vision and hearing impaired in Centreville, Chantilly, Herndon, South Riding, meets the first Thursday of each month at the Pleasant Valley United Methodist Church, 43987 John Mosby Highway, Chantilly. New members welcome. Call Jim Vertrees, 703-327-3538.
Loudoun County Public Libraries will be hosting various book discussions and book clubs for adults. For a complete listing of dates, times and locations, visit www.lcpl.lib.va.us.
Loudoun County Public Libraries will be holding children's book clubs and discussions at various locations and for various ages. For a complete list, visit www.lcpl.lib.va.us.
Crochet Club, at the Leesburg Senior Activity Center, 215 Depot Court, Leesburg. Meets Fridays, 9 a.m.-noon. Free. Call 703-737-8039.
Walking club, at the Leesburg Senior Activity Center, 215 Depot Court, Leesburg. Meets Mondays, Wednesdays and Fridays, 10:30 a.m. Free. Call 703-737-8039.
The Ancient Order of Hibernians is an Irish-Catholic fraternal organization, visit cunninghamaih.com. Its two main goals are to preserve Irish heritage and to nurture Catholic faith. The club meets the second Tuesday of every month at the Sterling Ruritan Club. Contact Bob Anderson at 703-858-7167 or Ned Woisard at 703-724-0524.
The Ashburn-Sterling Masonic Lodge meets on the second Tuesday of each month at 6:45 p.m. for dinner at the lodge, located at 43881 Waxpool Road, Ashburn. Visit www.AshburnLodge.org or e-mail info@AshburnLodge.org or call 703-470-2188.
The Loudoun County Public Library Board of Trustees will hold its monthly meetings on the third Wednesday of the month at 7:30 p.m., at the Ashburn Library, 43316 Hay Road, Ashburn. Call 703-777-0368 V/TTY or visit www.lcpl.lib.va.us.
Ashburn Assembly No. 11, International Order of the Rainbow for Girls meets on the first and third Wednesdays of each month at Ashburn-Sterling Masonic Lodge. Contact the mother advisor, Clarissa Jones, at 703-724-0675 or e-mail momclarissa@vaiorg.org.
The Dulles Area Kiwanis Club meets at 4 p.m. the first and third Sunday of the month at the Cascades Library in Sterling. All are welcome to attend and dessert is provided. The group holds fund-raisers to help local students and organizations. The club contributes to three high school Key Clubs — Park View, Potomac Falls and Dominion, K-Kids Club at Hillside Elementary, March of Dimes and more. Some group activities include bingo at Monroe House Assisted Living plus much more. Contact 703-448-1917 for the next meeting date.
MADD Loudoun announces the new MADD Loudoun Victim Support Groups for families/significant others who have been impacted by a drunk-driving crash. The group is for families, significant others who lost a loved one, for injured survivors and their families. The MADD Loudoun Victim Support Group will meet on the third Wednesday of each month, 7:30 p.m., at 210 Wirt St., Leesburg.
MOMS Club of Ashburn Village Area, an organization offering support to mothers and children holds meetings on the third Monday of each month. The group also covers Ashbrook, Regency, Cameron Chase, Belmont Country Club, University Center, the Courts and Ridges and more. The club offers play groups, activities, field trips, Moms' Night Out and more. Prospective members always welcome. E-mail ashburnmomsclub@yahoo.com or visit http://www.geocities.com/ashburnmomsclub.
The Loudoun Walking and Volkssport Club invites the public to check out its self-guided year-round walks. The club offers eight walks in the county that can be done any day at just about any time. Each has a choice of distance, 5 and 10 kilometers. The club offers these walks as part of its community outreach efforts. Contact Bob Wright at
703-737-2175 or rwright2@jhu.edu.
UMFS, a nonprofit family support group, will hold monthly support group meetings for adoptive families the third Tuesday of each month, 12:30-2 p.m., at the Ashburn Library, 43316 Hay Road, as part of the Adoptive Family Preservation program. Free, but preregistration required. Call Lisa Mathey, UMFS adoptive parent liaison, 703-347-5049 or mathey88@yahoo.com or Jodee Mellerio, UFMS adoptive family specialist, 703-941-9008, Ext. 23 or jmellerio@umfs.org.
Adult book discussions occur every month at Ashburn, Cascades and Sterling libraries. Each library has a different book to read each month. For a listing of books and how to join visit www.lcpl.lib.va.us.
The Loudoun Workforce Resource Center has been honored with an appreciation award from the Northern Virginia Workforce Investment Board. The award is for outstanding teamwork in meeting or exceeding all 17 performance measures during the last program year. More information about the is available at www.loudoun.gov/wrc.
The River Creek Club in Leesburg, was the scene of the fourth Annual Daffodil Ball, attended by 300 people, March 29. This year's event yielded $240,000 bringing the four-year total to more than $1 million raised on behalf of Capital Hospice.
Nonprofit conservation organization Loudoun County Chapter of the Izaak Walton League of America will distribute tree seedlings to local schools and make tree dedication to mark Arbor Day.
The Loudoun Habitat for Humanity (LHFH) affiliate has recently been notified that it has received a $6,000 grant from Better by Design through the Habitat Virginia organization. Each grant consists of $3,000 to compensate affiliates for any added cost they may incur by upgrading their Habitat home to EarthCraft. Additionally, Habitat Virginia will pay for affiliates to attend a mandatory EarthCraft House builder training and will cover the cost of getting Habitat homes certified by EarthCraft inspectors.
The Ashburn volunteer knitters meet every second Tuesday of each month at the Ashburn Library, 43316 Hay Road, Ashburn. LaDonna Snellbaker leads a knitting group that creates small blankets, caps, and hats. Items are donated to area hospitals. All levels of skill welcome. Beginner knitters need to bring bamboo needles and worsted weight yarn (Lyon Brand Woolease). Recommended for ages 12 and up. Advance registration required, go to www.lcpl.liv.va.us or call 703-827-5922.
Join the NAACP Loudoun chapter by visiting www.naacploudoun.org or visit the national site at https://www.naacp.org/contribute/join.php. Contact the group by mail at, Loudoun Branch NAACP, P. O. Box 2439, Leesburg, VA 20177 or call 703-779-2990. All are welcome and needed.