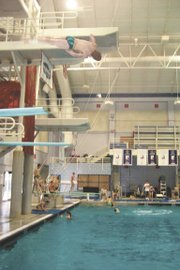 Without hesitation Timothy Faerber, 13, bounces off the end of the diving board, tucks himself together and spins around in the air before hitting the water straightened out with a minimal amount of splash.
His coach, Petar Trifonov of the Montgomery Dive Club, leans over and looks at a photo taken of him as he dove, "That was a good photo but a lousy dive," Trifonov says to Timothy as he swims to the wall. Timothy agrees, with a smile on his face, before climbing out for one more of the extra dives he is doing for some photos after his already three-hour long practice with the rest of the team.
Timothy, a Potomac resident along with his parents Yolanda and Michael Faerber and his brother and sister Niko and Elaina, has recently qualified to represent the U.S. at the British Elite Jr. Nationals in Leeds, England, for the second year in a row, the week of May 24. His performance at East Nationals competition, which were held at the Montgomery Aquatic Center in Rockville, last month garnered him this spot and ranked him third in the nation in his age group.
"We went to regionals which is half of the east coast and did very well there," said Timothy, "and then from there we qualified for the east coast competition here and then the Jr. Nationals."
"He did very good," said Trifonov, "It was his first competition in the 13-15 event and he did very good."
Diving events are grouped by age with each new age group requiring more complicated and difficult dives. This being Timothy's first year in the 13-15 age group he was competing with children who were already sophomores in high school and had been practicing dives, that were relatively new to him, for years. As Timothy, who hopes one day to compete in the Olympics, gets older he will need to learn more dives and perfect his style even more through practice.
ASIDE FROM returning to the junior nationals competition and being ranked the third best diver in the U.S. Timothy, who has been diving for the past 5 and a half years, is a four time AAU Gold Medalist, 1 time AAU silver medalist, won two gold medals at the spring regionals in 2007 and another at the Summer Eastern Nationals that same year. He qualified for the U.S.- Canadian Meet at the age of 10, a prestigious achievement, and has competed in events in other countries.
"We're very proud of him," said Yolanda Michael while overlooking the large diving boards at the Montgomery Aquatic Center, "I think what I'm most proud of is his dedication and motivation."
These are two qualities that both coaches and team members find make Timothy a good diver. Even when Timothy tore a tendon a few months ago he continued to train on land and do any workouts he could manage. He was at the pool for land practices every day the diving team had practice and would participate as much as he could.
"The first thing is desire," said Trifonov when discussing what makes Timothy such a strong diver, "He has the desire and I think Timothy is very talented and hopefully he won't get anymore injuries. The commitment is also important. Also a lot of kids have fear issues with diving and with him it is down to a minimum.
"I'm still afraid of things," admits Timothy, "but I can hide it when I'm on the board."
Timothy isn't the only one committed. Both his parents have become heavily involved in his diving with his mother taking part in helping running the diving team at the Montgomery Aquatic Center and his father traveling to Leeds with him for the competition. Even his little sister has started to dive after seeing her brother compete.
TIMOTHY FIRST became excited about diving when he was three and climbed up and started jumping off his community pools diving board. After a while he noticed the diving team practicing and decided to learn how to become a member.
"I love the feel when you do a good dive. Plus you get to stay in shape and the people you meet are incredible," said Timothy of his experience with the sport.
His main focus is learning more and better dives and improving on diving. Not even hearing of his number three ranking in the nation really distracted him.
"I mean it is important," he said of the ranking, "but your ranking in the country isn't the most important part of diving. Having fun with your team and getting better is."
As far as what Timothy needs to improve on for the upcoming competition goes, Trifonov, an Olympian himself, says that the work is really never over.
"Everything," he replied when questioned about what Timothy needs to work on, "A lot of new stuff we've started. It isn't only for now, it's for the next year and then the 16-18 group. You've got to be ready."
Of course this is another reason that Timothy gives for loving the sport, "That is exactly what I would say is great about diving. It's always challenging, it's hard. You'll never get it right, not even the best divers get it right all the time."