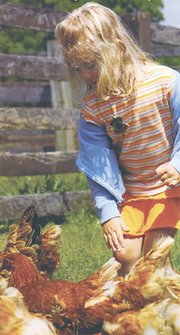 Twice a year, in spring and fall, the farms of Loudoun County open their doors to the general public and let the world see the more rural side of the county. This year the Spring 2008 Farm Color Tour will offer a self-guided chance to visit some of Loudoun's oldest and most interesting farms for free. The tour runs May 17-18, from 10 a.m.-4 p.m., on each day with farmers offering up special tours, live music and interesting items to buy plus a chance for fun with the whole family.
"This is an interesting area because you can live in a suburban area and still be close to all these terrific sites. It's one of the benefits of living in Loudoun County," Mary Novotny, manager of Heritage Farm Museum, said.
The Heritage Farm Museum, located at 21668 Heritage Farm Lane in Sterling, will be offering an orientation on both days and will act as a sort of jumping off point into the farm tour and the farm itself. Participants will be able to pick up brochures, learn a little bit about farming history in the county and plan they're trips to different farms.
"We are the gateway to the other resources," said Novotny. "So people should stop by here first if they're coming from eastern Loudoun and pick up some information."
The farms on the tour are not simply growing crops, they feature a wide variety of product types. From historical farms like the Oakland Green Farm and Bed & Breakfast to an alpaca farm in Waterford, the tour offers a variety farms and shows what Loudoun has to offer agriculturally to the entire county. The farms are also spread out all over Loudoun so local shopping and touring is easy.
"We would like people to learn about the farms that are out there because only if you have the information can you make informed decisions, informed decisions on what you buy and what resources are available locally. And we would like people to shop locally and support the area," said Novotny.
Having a fun day and shopping locally are both important but the farms also play an important historical role that residents should know about says Novotny.
"If you go back 100 years Loudoun County was an area of farm land supported by agriculture. It's all changed," said Novotny. "One Hundred years ago this was the number one apple-producing region in the entire country. Today there is one orchard in the area and several pick your own and in order to keep them around you need to buy local."
More like this story