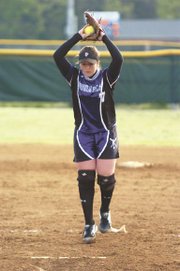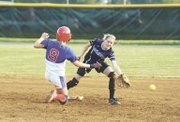 The Park View High girls softball team, with the regular season beginning to wind down, continues to play outstanding ball. This past Friday night, the Patriots defeated Dulles District opponent Dominion, 13-1. It was the Patriots' fourth win in three nights and second straight day in which they defeated the Titans. Park View pitcher Laura Heironimus won her ninth game in eleven decisions. She allowed six hits while striking out six in the stellar effort. She was also the offensive hero with two hits and three RBIs to support her own cause.
Sam Louk continued her strong senior season by going 3-for-4 with a double and two RBIs. Other Patriots with more than one hit included: Robin Heironimus, Brittany Griffin, Rebecca Patton and Sam Gleason. Park View, with the win, improved to 10-4 overall and 9-2 within the district.
Park View, which was tied for second place going into this week, was scheduled to meet first place Broad Run on Tuesday evening of this week. Later in the week, the Patriots will play a non-district game against Oakton on Thursday before taking on district foe Briar Woods on Friday night.
In Park View's first meeting against Dominion last week, the Patriots defeated the Titans, 6-1. Heironimus pitched a complete game, striking out seven and giving up only three hits. The lone run by Dominion was earned when Dee Dee Fryar blasted a solo homer in the opening inning.
Park View's offense was led by Rebecca Patton, who collected two hits, including a double. In all, the Patriots had eight hits on the evening, none bigger than Patton's two-out, two-bagger in the third inning. That extra base hit served as the catalyst for a three-run inning that ended after Ally Rupard tried to stretch her single into a double.
Earlier last week, on April 30, Park View played a pair of games. In the nightcap, the Patriots handled area rival Herndon High by a 10-1 score. The Patriots, in the game against the larger triple-A school, scored seven runs in the sixth inning to blow open a close game. Heironimus, on the mound, threw her second complete game of the day. The lone run she allowed was unearned and her ERA dropped to 1.51 for the season.
Sam Louk, Becca Patton (4 RBI) and Sam Gleason all had two hits for the Patriots. Miranda Kinney delivered a key pinch-hit base hit to drive in a run in the sixth inning.
Earlier that same day, Park View fell behind by three runs in the top of the third inning before rallying for an 8-3 win over district foe Potomac Falls. Sam Gleason and Ally Rupard both had two hits to lead the Patriots' 10-hit attack. Emily Garcia and Brittany Griffin each drove in two runs for Park View. Heironimus earned the win on the mound, tossing a complete game. She allowed four hits and fanned eight.
<b>The Park View and Broad Run</b> High girls tennis teams recently completed a postponed match, with Park View winning a couple of doubles matches to earn the 5-4 team win. Following the completion of the team match, the district foes competed again with Broad Run edging the Patriots, 5-4. The Patriots, unfortunately, lost No. 5 singles player Anastasia Heimann with an injury. Heimann, who also competes in No. 3 doubles, broke her right hand. Singles winners for the Patriots in the day's second team match were: No. 2 Krista McManus, No. 3 Megan Brown and No. 6 Sarah Groves. In doubles, Park View's No. 2 team of Krista McManus and Megan Brown won their match to finish the regular season with a perfect 16-0 record.
The Patriots and Spartans squared off in a first round district playoff match last week, with Park View defeating Broad Run. Singles winners for the Patriots were: No. 2 Krista McManus, No. 3 Megan Brown, No. 5 Lindsey Kibler and No. 6 Sarah Groves.
<b>Emily Garcia</b> of Park View High School was selected to play in the VHSL
All-Star softball game this July. The game will be held at Christopher Newport University on July 3. Garcia has been one of Park View's most productive players. She has accumulated offensive statistics that will likely place her among the top three hitters in Park View softball history. Garcia will attend college at Christopher Newport University next fall.
According to Park View coach Ed Abner, the VHSL could not have selected a better Park View softball/Sterling area representative to play in the game than the popular Garcia.
–Rich Sanders