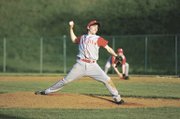 The Park View High baseball team lost to Dominion, 6-2, in a Dulles District game last week. Jonathan Mason was 2-for-3 with a double and an RBI for the Patriots. Dylan Smith was also 2-for-3. Smith, following the game, was hitting .560 for the year, with 18 doubles, one triple, 17 RBIs and just one strikeout. Also for the Patriots, Mason was hitting .449 for the year, with seven doubles, a triple, one home run and nine RBI's.
In another meeting between the two teams one day earlier, Park View beat Dominion, 3-0. Jimmy Kerby pitched a complete game for the Patriots, striking out none, walking two and giving up two hits. Billy Bradley was 2-for-4, Smith was 1-for-2 with an RBI and two walks, and Drew Mason was 2-for-2 with an RBI and a walk.
Earlier last week, Park View beat Potomac Falls, 5-4, giving Titans pitcher Jake Kline his first lost of the year. Tom Wellington got the win for the Patriots, pitching five innings, giving up four hits and an earned run. The victory improved Wellington's record to 3-1 on the year. Offensively, Smith was 3-for-3 with a double and an RBI, Mason was 2-for-3 with a home run and two RBIs and Kerby was 1-for-2 with 2 RBI's.
<b>The Potomac Falls High baseball</b> team put things together at the plate in its recent 14-6 win over Dulles District opponent Freedom. Six of the Panthers' nine starters had multiple hit games to lead the breakout offensive attack. Freedom came into the game struggling with just 11 healthy players.
Panther pitcher Mike Detaranto picked up his sixth win of the season and teammate Brian Griffin recorded his second save on the year.
Freedom got on the board in the top of the first inning. Jeremy Rilko led off
the game with a single to right field. He promptly stole second base and then scored when, on an attempt to steal third, the throw went into leftfield.
But Potomac Falls answered with five runs and seven hits in its half of the first. Rob Malan led off with a double to right field. Two outs later, Michael Spring drove Malan home with a single to left. Pat Nightingale and Chris Pelto followed with run scoring singles before Chad McMichael hit a double to deep centerfield. That was followed by singles from Eric Dimsey and Jake Orpin.
The Panthers added three more runes in the second inning on RBI singles by Nightingale, Pelto and Dimsey to up the score to 8 to 1.
The Eagles started to get back into the game in the top of the third inning. Ali Moosvi led off with a single. After Jeremy Farah was hit by a pitch, Rilko hit a single to load the bases with no outs. Anthony Perez then hit an RBI single to left field. Detaranto then hit Kyle Severns with a pitch to force in the second run of the inning. Matt Murphy hit into a fielder's choice before Trevor Moore executed a perfect suicide squeeze to score Perez from third. Kyle Groome then hit a double to center field to plate the fifth run and make the score 8-6.
Potomac Falls then proceeded to score five runs in the fourth inning to seal the victory. Dimsey hit a double and Orpin reached on an error at short. Malan then hit a single to plate Dimsey. After a walk to Greg Woodlief to load the bases, Aaron Sweger followed with a two run double to left field. Spring then followed with an RBI single and Nightingale added his third RBI on a single to put the game out of reach at 14-6.
Detaranto left the game after five innings of work, recording seven strikeouts. Brian
Griffin pitched the last two innings in relief, striking out four of the six batters he faced. This week, Potomac Falls was scheduled to play district games against Dominion on Monday and Tuesday, and at Broad Run on Friday.
More like this story