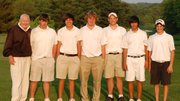 DeMatha won the 2008 Washington Catholic Athletic Conference golf championship, upset three-time defending champion Gonzaga on May 6 at Springfield Golf & Country Club. Paul VI also surprised Gonzaga, taking second place by one stroke, leaving a disappointed Purple Eagle team in third. St. John's was fourth, as only the top four teams in the ten-team conference advanced from the first round played April 29.
Freshman Ben Warnquist won the individual medal, 76-74-150, bookending his win two days earlier in the Belle Haven Junior Four-Ball with teammate Jordan Sweet. Paul VI freshman Brandon Luxenburg finished second, a stroke behind, making a late push with three birdies on the last five holes, including one on eighteen in front of crowd of players and parents. Luxenburg, a Springfield member, took advantage of his local knowledge to post a 2-over 73, the low round of the tournament.
A day earlier, Paul VI won the 2008 Virginia Catholic golf championship at Kiskiack Golf Club in Williamsburg. Freshman Tyler Wingo paced the Panthers to their third straight state title, winning the individual medal in the one-round tournament with a 2-under 70. Three of his teammates finished close behind. Michael Summers tied for second (73), and Jay Pinkos and Alex Kormanec (74) tied for fourth.