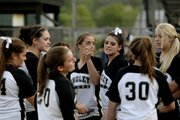 With two outs in the bottom of the seventh inning, Langley senior Lauren Engel launched a pitch from Madison junior pitcher Ashley Meister to deep right center. Saxon head coach Bob Morrow thought that that his right fielder had just hit a game-winning solo home run to give Langley a 2-1 win.
"Lauren's power is to right center, and I told her to look for her pitch and drive one," said Morrow. "I thought that it was out."
Engel's drive failed to clear the wall. She trotted into second with a stand-up double and the Saxons' celebration was put on pause.
The Saxons entered the game with 16 team home runs spread between seven different players. With the heart of the Saxon lineup coming up in the seventh, Morrow's thoughts turned to winning the game with one swing.
"All of them were capable of hitting a home run, and in the back of my mind, I hoping that one of them jacked one," he said.
With a runner on second, however, all the Saxons' coach needed was a two-out single.
Senior left fielder Hannah Shatzen was happy to oblige.
Shatzen scorched a two-strike pitch to right center, scoring senior pinch-runner Christina Bumpus and giving Langley the 2-1 win.
"I just saw that pitch and I said, 'That's mine.' I tried to drive it into right center," said Shatzen. "I just heard all of the fans cheering and I knew that it was riding on me. I just had to do my job for the team."
<b>SHATZEN'S SINGLE</b> ended another wild matchup against two of the top teams in the Liberty District. Earlier in the year, the Saxons edged Madison, 9-6, in nine innings. Friday night's matchup featured plenty of offense, 17 hits between the two squads, but the game was very much a pitching duel. Langley senior Emily Willis took on Madison's Meister, who was filling in for senior Kacie Goddard, who didn't travel to Langley.
Meister allowed a run in the first inning after allowing three straight singles. She then settled down, pitching out of bases-loaded jams in the second and third innings to keep the Warhawks in the game.
"When there were two outs, she made the pitches that she needed to make," said Morrow of Meister. In the second, Meister got Langley shortstop Kelsey Green to fly out to right field to end the inning. In the third, Meister struck out designated hitter Lizzie Sharkey and induced a ground out to end the inning.
Willis was just as impressive. After fighting through control problems in the first, Willis scattered five hits while allowing one run in 4 1/3 innings. Sophomore Brooke Brown relieved Willis in the fifth and pitched the final 2 2/3 innings of shutout ball.
Heading into the second time around the Liberty District, both Langley (15-3, 10-2 Liberty) and Madison (16-4, 10-3) were jockeying with Stone Bridge (11-5, 10-2) for the top seed going into the district tournament. With the win, the Saxons now control their own destiny – playing the Bulldogs on Tuesday night and McLean on May 9. Langley lost to both teams earlier in the year. The Warhawks followed up their loss to Langley with an 11-6 win over Woodson and will play the Bulldogs in their final regular-season game of the year on May 8.