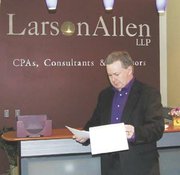 Compliance audits. Cash flow analysis. Financial performance assessments. Form 990 and 990-T return preparation.
These are a few of the tasks that John Langan, CPA, confronts every workday at his accounting firm. Regulations, logic, and numbers—zillions of numbers—drive his workday. After dinner, at home in his basement, he turns to a parallel world, one filled with music, emotions, and words. There, a piano is his accompaniment, not a computer, as he tinkers with lyrics for a new song:
Baby on my radio
You coming through real strong
In our favorite song
Another haunting memory
And it's reminding me a love like ours
Only comes along
Sometimes. ©
If there is a good example of man's right and left brain distinctions, it's Mount Vernon resident John Langan. By day, John is a mild-mannered accountant, albeit a modern one without the green eyeshade. At night, he's Johnny, a prize-winning country music songwriter. Not quite Clark Kent and Superman, but certainly a study in contrasts.
Langan is the principal in charge of the non-profit and government services group of LarsonAllen, the nation's eighteenth largest public accounting firm. He supervises 150 professionals, who serve 2,500 clients. He assumed the position last year when he merged his own company, Langan Associates, with LarsonAllen.
Additionally, Langan is a former board member of the American Society of Association Executives and the Greater Washington Society of CPAs. He chairs the audit committee for Washington's Boys and Girls Clubs and serves as the treasurer of the Pentagon Memorial Fund.
As his professional career progressed from an accounting major in college to financial manager, Langan developed as a musician as well, starting as an eleven-year-old piano student in West Hempstead, Long Island.
"My father offered to pay for the first set of lessons for any instrument for me and my brothers and sister," he said. "I chose the piano and my instructor taught at Juilliard. She held her students' recitals at Carnegie Hall, so I achieved every serious pianist's desire early in my music life."
As a teenager in the late 1970s, singer/songwriters Billy Joel and Elton John inspired Langan away from classical music to pop. He also discovered, as many teens have, that playing in a band was cool. While rehearsing Joel's "Stranger" for the Junior Ring Dance at Maria Regina Catholic High School, Langan noticed girls drifting into the auditorium and clustering near his piano. "I found that piano nerds could get girls, and music gave me confidence," he confessed.
As a young auditor in the Washington office of the international accounting firm Arthur Anderson in the 1980s, he met another accountant and musician, Chuck Smith. They performed together at parties and became friends. Smith, who now lives in Ashburn, has always been a country music performer, and his current group, Brandy Stills Band, plays country gigs around the Washington area.
"'Let's write music, not just play,' John said to me one day," Smith said. "Most local bands and performers just cover other people's songs. John wanted to create, not just imitate."
Why country? And why a Long Island guy with a lingering "New Yawk" accent? "Chuck taught me the beauty and subtleties of country music," Langan said. "It had always been 'three chords and the truth,' or 'real stories about real people,' but it's still about getting a story across and moving people in three minutes. Besides, young people listen to it now."
"Also, there is a big crossover between pop and country now," Langan continued. "Country today is often just pop music with a steel guitar and a fiddle." Langan said "pop country" arose in the late 1980s, citing Keith Urban, Tim McGraw, and Kenny Chesney as top singers in the genre. "Listen to them and you'll get a feel for the music."
After years of informal playing and composing, Langan and Smith began serious collaboration on country songwriting in 2000. After a few years of experimenting, their routine has settled into an annual process.
"We write about twelve songs a year," Langan explained. "We record "scratch demos" for eight of them in either Chuck's home recording studio or mine. We then pick our four best and head to Nashville." They book a recording studio, hire good "demo singers" and first class studio musicians, who abound in Nashville, and professionally record the four songs. "We used to approach publishing companies ourselves with the demo recordings, but now we use a part-time "song plugger" since both of us have to return home to our day jobs." Also, they formed Rider Publishing, a company to further advance their songwriting enterprise.
Still looking for their first recorded and released song, called a "cut" in the business, Langan and Smith enter songwriting contests as one means of publicizing their work. They won the 2004 Mid-Atlantic Song Contest country silver award with "To Love," and that contest's 2005 country gold award for "Someone You Loved." In the 2005 Country Music Television/Nashville Songwriters Association International Listener's Choice competition, they won honorable mention for "She Rode the Bull."
More recently, the team was a finalist and runner-up in the 2008 Country Music Television contest with "Sometimes." "We are writing better songs," Langan said. "Feedback within the industry is good, especially for two guys who don't live in Nashville. A Grammy Award-winning country songwriter has encouraged us to continue and helped us make high-level industry connections."
Langan also performs, most often in the dance band "Who's Ya Daddie?" Neighbor and fellow accountant Tom Southard recruited Langan to be the band's keyboard player. "We play mostly rock and soul, songs from the 1960s, 70s, and 80s," Langan said. His playing is yet another part of his multi-faceted life—spreadsheets, sheet music, and play lists.
"Music is a great outlet for John," said his wife Cindy. "I'm impressed with his talent and fully support what is obviously more than a hobby." The two met at Arthur Anderson, married in 1986, and have a son, Patrick, a JMU freshman, and a daughter, Mary, a freshman at West Potomac. They live near the Cedar Knoll Inn on the Mount Vernon Parkway. In addition to the keyboard, Langan also plays golf.
Listen to Langan and Smith songs at <a href=http://www.riderpublishing.com.> www.riderpublishing.com</a> Information about their bands is at <a href=http://whosyadaddie.com/index.html>http://whosyadaddie.com/index.html</a> and <a href=http://www.brandystills.com>www.brandystills.com</a>.