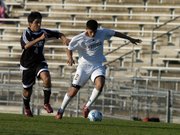 After shooting a penalty shot just wide of the Centreville goal within the first 30 seconds of the Bulldogs' first-round Concorde District tournament match, Westfield senior A.J. Sheta stood stunned for a couple of seconds — staring at the ball as it rolled onto the track at Westfield High School on Tuesday night.
"I couldn't believe it," he said after the Bulldogs' 3-0 win over the Wildcats. "For the first minute, I thought that I let the team down."
After missing their only two penalty kicks during the regular season, the Bulldogs decided to try something different when a slide tackle gave them a golden opportunity to take the lead at the start of the game. Senior Trey Messiah lined up to take the shot against Centreville senior goalie Steven Linane. Instead of firing a shot, Messiah tapped the ball to Sheta, who was standing nearby. Despite the deception, Sheta's shot sailed wide left and the game remained tied.
"When we started with missing a penalty kick… I thought that it was going to be a long day," said Westfield head coach Tom Torres. "If you are going to tell me that A.J. misses a shot from eight yards out, it boggles your mind."
Near misses for the Bulldogs continued to be the story throughout the opening 20 minutes. Shots would sail just wide, or high, or Linane would find a way to make a stop.
"The whole offense played amazing. It was just that final shot that we couldn't get in," said Sheta.
<b>IN THE 23RD</b> minute, the Bulldogs finally broke through, on a laser off the foot of Sheta from 35 yards out for his 13th goal of the season. Sheta took no chances this time, placing his shot dead center over the outstretched hands of Linane.
"All of a sudden, we had the one opening and boom," said Torres. "That really changed things for us."
The score, however, remained 1-0 for the next 25 minutes until Messiah scorched a ball past Linane off of a feed from senior Daniel Mejia. Eleven minutes later, senior Ramin Movahed knocked a diving header into the net on a pass from senior Kyle Guthrie, to put an exclamation point on the Bulldogs' win.
"We wanted to keep it close. We didn't want a 6-0 or 7-0 game, which Westfield is very capable of," said first-year Centreville head coach Brian Cochran. "We tried to keep it low."
The Wildcats, who lost to Westfield in the Concorde District finals last year, finished the year with a 3-7-3 record.
"Just like any season, you take some steps forward and we started taking some steps back," said Cochran. "Only graduating five seniors, so the core of our kids are rising seniors. It should work well. This is a stepping stone."
The Bulldogs, defending Concorde District champs, secured a spot in the Northern Region tournament and moved on to play Robinson on Wednesday night in a game too late for this edition.
"It is beneficial to know that we are in the regional tournament. We have set our goals for May 30, for the regional title game. That is that," said Torres.