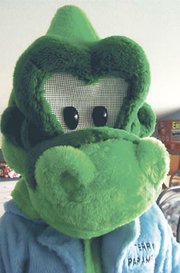 The Ashburn Volunteer Fire and Rescue Department will host an open house Sunday, May 18, between 1-4 p.m. at Ashburn Volunteer Fire Department, 20688 Ashburn Road, Ashburn. There will be fun for the whole family and Terry the Traumasaurus will make his debut.
What is a Traumasaurus?
My name is Terry and I am a paramedic dinosaur whose job is to help promote the well-being and safety of children in the Ashburn community.
Where do you come from?
Well, my mom and dad are dinosaurs, so like most dinosaurs I was hatched. I really was hatched as the brainchild of a paramedic who lives in Saskatchewan, Canada. He saw that dinosaurs always have a special place in young kids' hearts. So that is where my family comes from but now I live here in Ashburn.
How do you help children?
I am big, cute, cuddly and nonthreatening to kids of all ages. I love children and am very good at helping them understand how to stay safe, healthy and learn good habits.
What will you be doing at the Ashburn Volunteer Fire Department?
I will appear at many community events at the firehouse and in the community. Because I am an active member of Ashburn Volunteer Fire and Rescue Department, I have specific duties and assigned to a specific crew. My duty officer is AVFRD public education and events coordinator, Tammy Enright (events@ashburnfirerescue.org).
Are you trained as a paramedic?
I am a sergeant at AVFRD. An Emergency Medical Technician — just like the human kids are most likely to meet on an ambulance or in another emergency.
What is the best part about being a dinosaur?
Kids love me.
How did you become the EMS mascot?
Well, I really consider myself a spokesperson rather than a mascot. My friends at Ashburn were looking for a new way to get safety messages out to children and their parents on how to be safe in the home, in the pool, on their bikes and how to have a home emergency plan. And that is just a few of the topics we talk about.
Any quick advice for children to be safe and healthy?
Wash your hands, wash your hands, wash your hands! Stop, Drop and Roll in a fire or smoke situation. Listen to your mom and dad. Also eat your vegetables (my favorite food). I have all kinds of messages to keep kids safe and healthy. Watch for my safety tips in your homeowners association newsletter and in monthly press releases. And soon I will have my very own blog!
Why is it important to support the fire department?
All of the career firemen and volunteers at Ashburn Volunteer Fire and Rescue Department are specifically trained to respond to fire and medical emergencies. They are there when bad things happen, 24 hours a day, seven days a week through rain, snow, thunderstorms, anytime. When you help them, you help keep all the neighborhoods and communities that make up Ashburn safer.
Will you be showing up anywhere else soon?
Yes, I am so glad you asked. This Sunday, May 18, I will make my debut at the AVFRD Spring Open House/Family Day between 1-4 p.m. And in just two weeks I will be at the June 1 pancake breakfast also at AVFRD. We will be honoring Fathers Day (a little early) at the breakfast, so I look forward to meeting all the kids' dads. There are many more events that you will see me throughout the year!